New Impressionism Exhibit in Library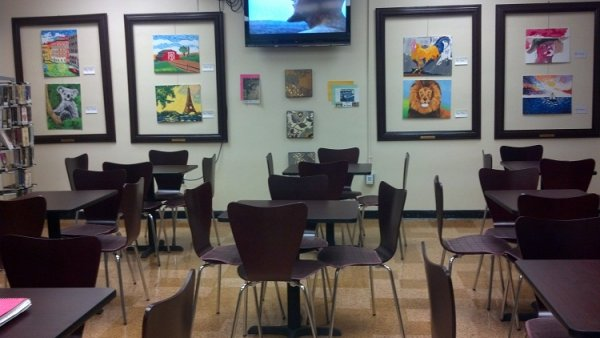 Danielle Russo's Art II class presents eight impressionistic works in the Student Art Gallery of the Reading Lounge Café in the Hawthorne High School Library Media Center.
These students studied impressionism during the second marking period. With a strong understanding of the elements of this type of painting, students then created their own impressionism paintings.
Impressionism is a 19th-century art movement that originated with a group of Paris-based artists. The Art II class focused on two of the main artists of this movement: Claude Monet and Vincent Van Gogh. Students learned about their most famous works, and then created paintings in this style. Oxforddictionaries.com states that impressionism is a style that is used to capture a feeling or experience of a moment instead of giving an accurate portrayal of the object. The paintings aren't done in detail since it's supposed to be as if the artist only saw it for a moment.  According to Russo, Impressionist painting characteristics include relatively small, thin, yet visible brush strokes, and lots of color.
Giovanna Motta, junior at HHS said, "The new art in the Library Media Center is a good way to show how the artists express themselves. Each piece of art also adds a nice touch of color to the Media Center."
All together, the paintings took about two-and-a-half weeks to complete. Each student had to draw out the subject and apply multiple, thin brush strokes.  The artists of the paintings in the Reading Lounge Café include Renee Vitole, Nick Cramer, Emily Provencher, Alex Guarnieri, Noshin Choudury, Jackelin Joa, Molly O'Hea, and Steve Sorrento.
Art teacher, Russo commented, "The exhibit looks great! It really brings a lot of color to the cafe!"