The Joy Of Poetry! Day at Hawthorne High School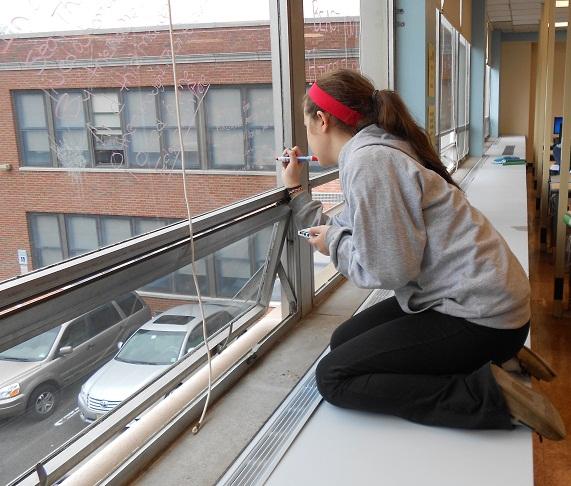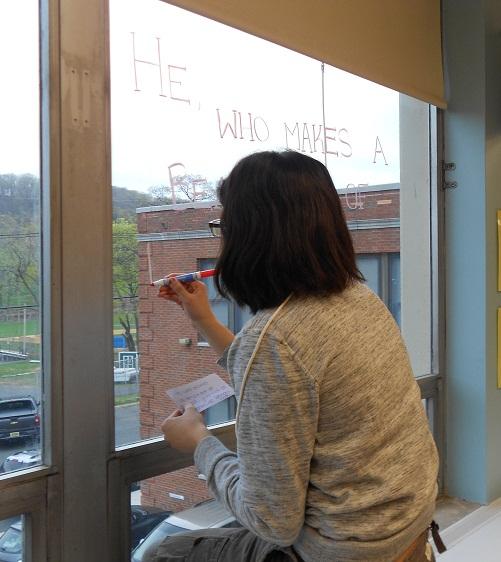 The Joy Of Poetry! Day at Hawthorne High School
To celebrate National Poetry Month in April, Hawthorne High School's Creative Writing Club sponsored The Joy of Poetry! Day on Tuesday, April 23, 2013. On this day, all students, faculty and administrators were welcomed to participate in a variety of activities.
The day began with the event called Poems in Surprise Places. Students placed poems in creative places throughout the school for teachers and friends to find, discover, and enjoy during the day. Poems showed up under computer keyboards, inside newspapers, in desk drawers, taped on walls and ceilings, and in lunch bags.
The Joys of Poetry! Day activities continued in the courtyard before school and during lunch periods where everyone was invited to participate in Poems on the Pavement. In this activity, students used color chalk to write poems on the sidewalks. At the same time, students were writing their poems on the windows in the Library Media Center with special window markers.
To end the day of poetry celebration, the Creative Writing Club hosted a Poetry Read-Aloud party and a Pass it on Poetry event in the Library Media Center. During the Read-Aloud, students shared poems either written by themselves or by other poets. The day ended with students taking a fun approach to writing poetry with the Pass it on Poetry event. In this event, each participant wrote one line to finish the sentence: "Poetry is…" Once everyone had written their poetic statement, the lines were combined into a unique and surprising poem that will be published in the school's literary magazine, The Empyrean.
HHS Library Media Center is also celebrating National Poetry Month throughout April. At the entrance of the Library, a display of different books involving poetry welcomes all who walk in. The display includes various books of both modern and classic poetry, including the popular novel in poetic form Crank by Ellen Hopkins, as well as books of sonnets by William Shakespeare who celebrates his birthday on April 23.