Cheryl Smith Honored with Passaic County's Teacher Recognition Award
Cheryl Smith, a mathematics teacher at Hawthorne High School, was chosen by her fellow teachers to receive the 2013 Passaic County's Teachers Recognition Award.
Theresa DiGeronimo, HHS Media Specialist and good friend of Smith, agrees she is fully deserving of this award. DiGeronimo said, "She is outstanding at teaching. She will do everything possible to help her students to succeed – giving 150 percent every day. She works all the time to help her students."
Mahin Chowdhury, a senior at HHS who has had Smith for two years, agrees with DiGeronimo saying, "[Ms. Smith] truly cares about her students and does whatever it takes to make sure they learn the materials."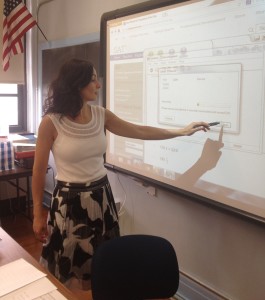 When asked how Smith runs a successful classroom and accommodates her students, she said, "I believe that each student is unique and that as such, each child has an individual learning style and the ability to succeed.  It is my responsibility as a teacher to discern their learning style and tailor my teaching styles to best accommodate their learning and eventual success. I am aware that catering to [her student's] learning styles is not the only component that will help them to succeed. In the extra help sessions I provide, I am able to teach them how best to study in addition to teaching them actual skills."
Michelle Pasquale, senior at HHS who has had Smith as a teacher in Pre-Calculus Honors and AP Calculus, affirmed Smith's view on teaching by saying, "Ms. Smith works hard not only inside the classroom but outside as well. Whether she is preparing lessons or holding night sessions for AP Calc, she is always working. I've had her for two years now, and I can't even begin to name how much fun I've had in her class and how much I've learned. She deserves this award 100 percent!"
Smith also brings fun into her classroom each year by doing a project in which her students in Pre-Calculus and Pre-Calculus Honors make roller coasters. "Students are required to work as small groups; they share the labor efficiently and fairly. They spend at least four weeks to research and sketch a probable model, build the model and calculate the velocity, acceleration and energy conservation of the marble throughout the loop(s), inversion and the initial drop. This way, they are able to apply these ideas to their lives so that there is sense and meaning to what occurs in the classroom," said Smith.
Smith also brings life lessons into her class. She said, "One of the ways I enjoy teaching is through learning. It is a continuous journey. I continue to be amazed at how much I learn from my students. It is my goal to convey to my students that learning is a lifelong process."
Evidence of her status as a highly effective educator is also seen in her students' AP and HSPA test scores. "There have been improvements in both sets of tests since I have been a mathematics teacher," said Smith.
"Ms. Smith brings out the best in her students. She is truly a blessing to HHS," said Kris Kozlowski, senior at HHS, "I love her."