Italian Club Field Trip to NYC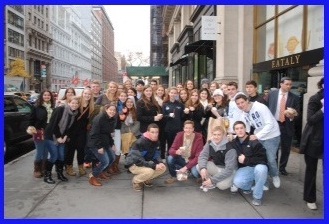 The Italian Club took a field trip on Friday, November 22, 2013 to New York City, where the group received a tour of important Italian historical sites throughout Greenwich Village, followed by a lunch at Manhattan's Eataly.
Sporting umbrellas and jackets, the group of about 40 students, accompanied by Italian Club advisor Marisa Margarucci and teachers Joseph Letterese and Adina Corisaniti, braved the drizzly weather for an outside walking tour. Featuring a guided walk around Greenwich Village, the tour stopped along various historically significant locations, such as Our Lady of Pompeii Church, Father Demo Square, Ottomanelli and Sons Meat Market, and the Giuseppe Garibaldi statue in Washington Square Park.
Italian Club vice president Haley Cimillo noted, "The tour was cool, especially when we stepped into the church; the stained glass was gorgeous!"
After the tour, the group walked to Eataly, an indoor Italian marketplace and network of restaurants on 5th Ave, where the students and teachers dined on authentic Italian food and purchased other food items to bring back with them.
Students and teachers alike agreed the trip was both fun and delicious.