Matt Corvo: Teacher of the Year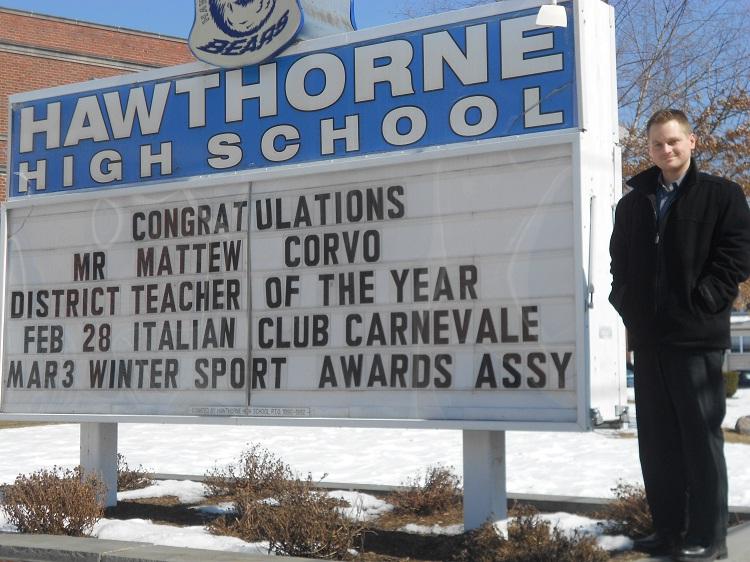 Sarah Kearsley, Staff Writer
February 28, 2014
Hawthorne High School is very proud to announce that social studies teacher, Matthew Corvo, has been selected as the 2014 District Teacher of the Year.
Corvo is very excited and thankful to receive this award. "I am extremely honored and grateful to be chosen as the District of Hawthorne's Teacher of the Year.  Any success I've had correlates directly to the support and guidance I have received from co-teachers, administration, my friends, and my family – not to mention the countless lessons I've learned from the most important part of the process, my students."
Corvo, who has been teaching at HHS for six years, had to be nominated by his peers to be considered for this honor. Once becoming the chosen Teacher of the Year at HHS, he was then in the running for District Teacher of the Year. This honor is given to only one teacher from the entire school district. Now that he has won this distinction, he will go on to compete for the County Teacher of the Year award. If he wins this, he will then be eligible to receive the State Award and then, eventually, the National Award.
HHS senior, Jessica Cruz, who has had Corvo as a teacher in the past, is extremely happy for him. She said, "He makes sure that each student is recognized as an individual. He makes his class fun and interesting. He doesn't make history boring; he tells it like a big long story. Not only is he a great teacher, but he is a great person and leader. He knows how to be a friend to students while still maintaining their respect. He definitely deserves this award."
It is not a surprise that Corvo has won this award. His interesting teaching styles and enthusiasm for teaching is something he is known for. When asked about his teaching methods, Corvo said he uses a mixture of both old- and new-school instruction. He tries to incorporate the use of technology so students can learn from him how to present their theories on the topic being discussed in an organized way using modern technology. However, he also emphasizes the importance of teaching through instructor-prompted discussion and debate. He uses this in order to compare history to current and contemporary issues.
When asked about Corvo's teaching methods, HHS senior, Hector Castillo, said, "I love his conversational and friendly manner in the classroom. I learn so much from him without getting bored, and I don't even like history all that much! Mr. Corvo definitely deserves this award."
In addition to his main teaching style, Corvo also believes it is extremely important to relay life lessons to his students. As an HHS alum, Corvo is thankful to have received these life lessons from the teachers he had while attending. Corvo said, "Important qualities, like perseverance, tolerance, inspiration, and confidence, all present themselves in the figures that left an impression on our nation, and hopefully their stories will leave an inspirational impression on my students."
HHS English teacher, Kelly Clifford, who has been a class advisor with and currently runs Peer Leaders with Corvo, is extremely excited for him. She explained, "He is incredibly dedicated to the teaching profession, and he has the perfect balance of being able to be extremely knowledgeable of his subject matter and design dynamic lessons that his students are completely engaged in.  Mr. Corvo is one of the first people in the building in the morning, and his doors are always open for students who are seeking extra help. I couldn't ask for a better partner in advising for Peer Leaders.  His easy-going personality and humor make working together so enjoyable.  Mr. Corvo and I are colleagues, but he has become one of my greatest friends."
Ultimately, Corvo believes that the two most significant parts of teaching are preparation and positivity. He emphasizes the importance of being prepared in order to keep things fresh and interesting while also maintaining a positive energy in the classroom. He said, "On day one, I tell my students that the on-ramp to the highway of failure is discouragement. Try to drive right by it."