Hawthorne High's Latino Festival is a Success!
The first annual Latino Festival transformed rooms 217 and 218 of Hawthorne High School on May 2, 2014, into a festive, authentic Cinco de Mayo celebration. The Latino Festival was a successful fundraiser run by the HHS Spanish Club and Spanish Club advisor Karina Rivas.
The Latin extravaganza, which began promptly at 10 a.m. and went on until 2:00 p.m., served Latin appetizers and desserts including empanadas, quesadillas, chips and salsa, guacamole, churros, flan, chocolate cake, tres leches, rice pudding, and a traditional Spanish cake.
In addition to the delicious treats, the festival also offered a number of fun games. Students had the chance to pin the mustache or sombrero on a poster of retired Principal Barry Cohen or Vice Principal Dario Sforza, play a round of the always-fun Just Dance, or vote on the best homemade piñata.
By the time lunch came around, the event's line was down the hall. At the end of the day, every single appetizer and dessert was sold out.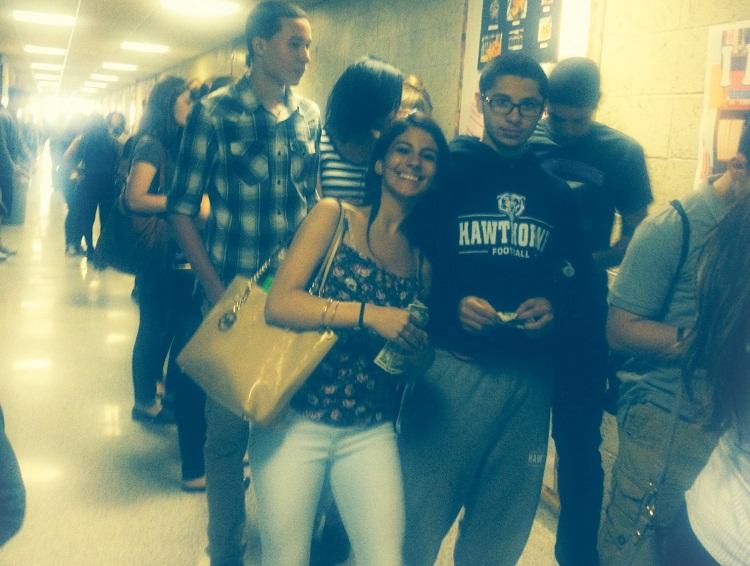 According to the Spanish Club president, Leah Matari, the goal of the festival was "was to change the Spanish Club's image to a positive one throughout the school." With this this being such a major success for the Spanish Club, two more events are already in the works for next year.
Students at HHS applaud the Spanish Club for putting together such a successful and fun event, and we can't wait to see what next year has in store… hopefully it's another Latino Festival!