Photos of HHS Spirit Week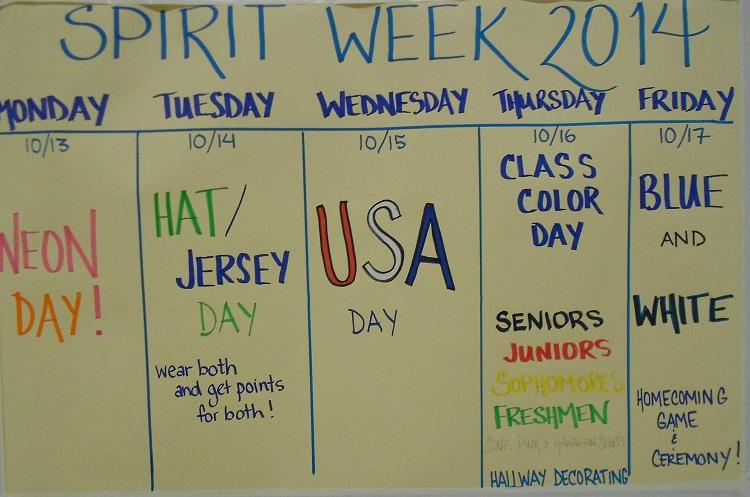 Abby Provencher, Contributor
October 22, 2014
It's Spirit Week at Hawthorne High School. Students on all grade levels will be busy this week competing in various events that will determine whether freshmen, sophomores, juniors or seniors have the most school pride.
The first part of the competition assigns each day a different dress-up theme.  For every student who participates, a point will be awarded to his or her respective grade. The days' themes are as follows:
Monday: Neon Day
Tuesday: Hat/Jersey Day
Wednesday: U.S.A. Day
Thursday: Class Color Day
Friday: Blue and White Day
The next event is Class Color Day on Thursday.  Seniors wear black, juniors wear red, sophomores wear yellow, and freshmen wear green. The school staff will wear pink clothes and Hawaiian shirts.
A favorite part of the week-long competition is the Hallway Decorating Contest. In this event, each grade decorates its respective hallways based on a theme of its choice. A group of staff members will judge the hallways to decide whose is the best. Students will be decorating on Thursday night, October 16, and the judging will occur the following morning, Friday, October 17. Students should talk to their class advisors if they would like to be involved!
At the end of the week, the grade with the most points will be named the winner of Spirit Week!
Another aspect of Spirit Week is the selection of the Homecoming Court. Last week, students were asked to vote for three girls and three boys from their grades; the finalists were announced on Wednesday, October 8, and the last round of voting will take place this upcoming Wednesday, October 15. For the final round, freshmen, sophomores, and juniors will vote for one boy and one girl to represent their respective grades, along with one senior boy and one senior girl to be Homecoming King and Queen; Seniors will vote only for Homecoming King and Queen.  The winners will make a special appearance at the Homecoming Game on Friday.
The finalists for each grade, as posted by the Student Council, are:
Senior Girls (Queen): Alyssa Matos, Jenna Grimaldi, Stefanie Hauser, Alexandra Kowalski
Senior Boys (King): Alessandro Castillo, Julio Aybar, Scott Miele, Frank Giglio, Jake Grootenboer
Junior Girls (Princess): Brianna Garcia, Samantha Calkins, Brittany Sabatello
Junior Boys (Prince): Chris Hascup, Liam Morrissey, J.J. Occhipinti
Sophomore Girls (Duchess): Callie Keyzer, Madison Michalski, Mackenzie Conroy
Sophomore Boys (Duke): Luke Sousa, Jared Chichizola, George Nadirashvili
Freshman Girls (Lady): Julia Aguero, Barbara Cucci, Devyn Alvarez, Carly Spirito
Freshman Boys (Lord): John Fenkart, Rocco Pecoraro, Carter Mascis
Spirit Week finishes off with the Homecoming Game and ceremony on Friday, October 17, at 7p.m. According to the Hawthorne High School Athletics' schedule, the game will be against Ridgefield Memorial High School. Be sure to come out and support HHS. Go Bears!