Introducing Bear With Me Graphics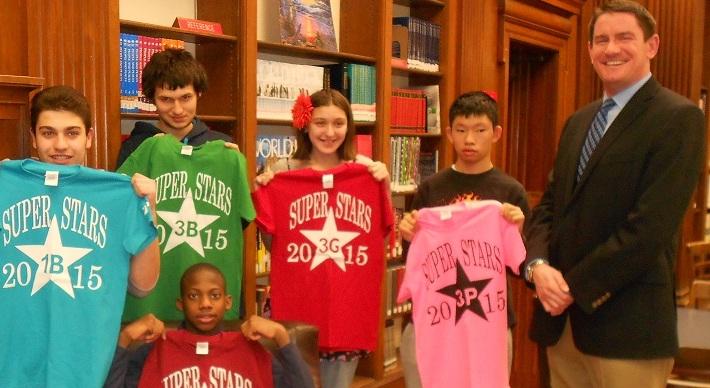 Jessica Layton, Contributor
January 26, 2015
Hawthorne High School's Life Skills students are excited to announce the grand opening of Bear With Me Graphics. As part of the Academic Real-Life Community Hands-On Program (ARCH), students in this program have been creating tee-shirts for various Hawthorne School District events.
The students' most recent project was in partnership with Lincoln Middle School for Superstars 2015, which was held on January 23. In total, the Life Skills students printed 183 shirts for the middle school students.
The program is run by teachers John La Forge, Danielle Tedesci and Danielle Forshay and includes students  Zachary Alkes, Michael Christensen, Maizie Baltes, Christopher Ferrone, and Darius Simpson.
Ms. Forshay commented, "The new Bear With Me Graphics has already had a huge impact on my students.  The students are able to use specific skills in a real-life setting, such as measuring, reading a spreadsheet, fulfilling orders correctly, working as a team, etc.  The best part is the students are learning extremely valuable skills while building relationships with the other schools in our district."
Hawthorne High School Principal Daniel LaGrone added, "I am excited about the new educational hands-on experiences that our Life Skills students will benefit from. We strive to make all of our lessons and programs more relevant to students gaining 'real world' experiences while further engaging their interests and skill sets."
In order to create the tee-shirts, the students must carefully follow a list of precise steps, which ultimately assists in teaching invaluable skills.
First the students must order the tee-shirts by reading a spreadsheet and inputting sizes and numbers. Next, transfer paper is ordered for lettering. Then, using careful measurements, the students use heat to press the lettering onto the tee-shirts. Each student must follow strict safety protocol when using heat, knowledge previously acquired from specific safety lessons. Each tee-shirt is lettered by hand and students take great strides to make sure each is identical. A second transfer paper is applied and then removed while still warm. Finally, the tee-shirt is left to cool and after reaching an appropriate temperature is properly folded by the students.
By learning to follow careful steps in order to achieve a goal, students are able to witness firsthand that with patience and persistence they are capable of creating great things.
The students' next order comes from Roosevelt Elementary School. These tee-shirts read "Buddies Up Bullies Down," promoting a positive and bully-free environment amongst students. Bear With Me Graphics has already received about 400 orders for this event. It looks like this successful venture is a hit.