Book Talk with Authors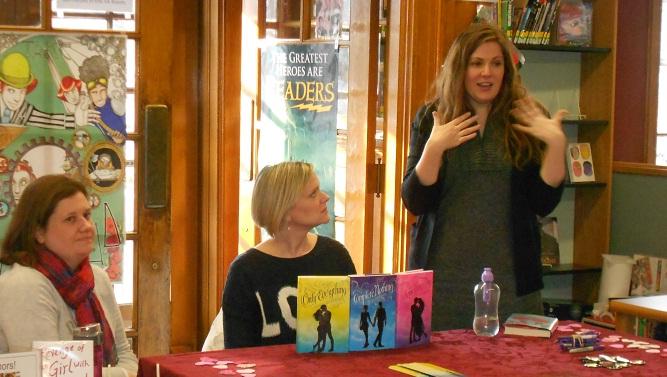 The HHS Creative Writing Club participated in a book discussion with three contemporary authors at the Louis Bay II Library on Wednesday, Februrary 25, 2015.
The club members listened to the three female writers each discuss their writing habits, their publishing experiences, and their plans for future books.  Kieran Scott's latest books called The True Love Trilogy are mythology based, and, in Scott's words, "Percy Jackson-like with romance." Elizabeth Eulberg's latest work is entitled We Can Work It Out. The book is the sequel to her popular Lonely Hearts Club, which she told the students took five years to write and went through 17 drafts. Sandy Hall spoke about her book, A Little Something Different, which is written from 14 different points of view. Hall published the book through a division of Macmillan Publishing called Swoon Reads. Her book publishing process was unique because it was the first crowd-sourced book attempted by a major publisher. Authors post their novels online and fans vote for their favorites. The book with the most fans gets published.
Responding to student questions about drafts that never get finished, Hall advised, "No writing is wasted. Pile it away. There may be a glimmer of a story in there that you may pull out later."
Discussing the writing process, Scott, who has published more than 100 books, says that uses an outline. "I have to know where I'm going," she says. "An outline helps me learn the structure of a book."
After the Q&A session, the authors signed their books, and spoke individually with the students.