Mr. Hawthorne 2015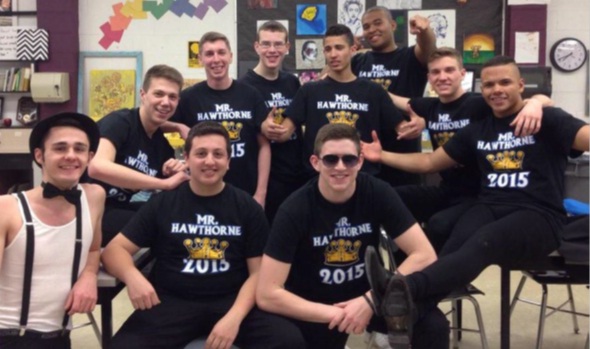 Hawthorne High School held their popular, annual competition on Friday, March 6th. This male pageant was open to upperclassmen, and ultimately featured: Matt Altemus, Paul Reilly, Steven Sutphin, Ali Awari, Julio Aybar, Liam Morrissey, Jake Grootenboer, Frank Giglio, Jesse Dorfman, and Davius Bunch. Mr. Hawthorne was hosted by Taylor Conroy and Leah Matari, and was choreographed by Angelika Alvarez and Gabriella Maoli. The five staff members in HHS that judged the competition were Mr. Galluccio, Ms. Lyness, Ms. Clifford, Ms. Smith, and Mr. McMann. The event started off with a short film of the contestants filmed by Bears Broadcasting and was quickly followed by an entertaining dance routine.
After their fabulous opening number, the talent portion took place. Matt Altemus performed an alphabet aerobics rap. Paul Reilly played his saxophone to the songs "Talk Dirty" by Jason Derulo, and "Problem" by Ariana Grande. Paul's performance included backup dancers Angelika Alvarez and Gabby Maoli. Steven Sutphin performed his own version of the song "Good Vibrations" by Marky Mark and the Funky Bunch. Ali Awari presented a comical poem explaining why he is "boyfriend material." Julio Aybar danced with Briana Marsiello to "Happy" by Pharrell Williams, for his talent. Liam Morrissey danced with David Mascis in a Bogies Hoagies mid-drift and short-shorts, to the song "Jump On It" by Apache. Jake Grootenboer did his own spin on a skit from Saturday Night Live with Francesca Lupo. Frank Giglio danced with Mr. Di Lonardo to his own mix of music. Jesse Dorfman started off-stage in the audience where he claimed he was on a date with HHS's legendary, Mrs. Wright. Jesse was then pleaded on stage where he reenacted a  bit from the film Anchorman, Jazz Flute. Davius Bunch finished off the talent round with a magnificent solo performance of the song "You & I" by John Legend. His performance had the crowd waving their hands and holding high phone lights.
Next came the fashion round. It started off with Matt Altemus strutting down the stage in a Harlem Globetrotters uniform. Paul Reilly came out next in a beautiful white prom dress. Steven Sutphin wore a very unique outfit, made up of what seemed to be younger girl clothes. Ali Awari dressed as a character from the movie Juno. Julio Aybar came out in our high school's baseball uniform. Liam Morrissey was next, walking out in a leather jacket, his hair slicked back, and a comb in his hand. Jake Grootenboer rode onto the stage with his small riding horse and cowboy hat. Frank Giglio showed us his nunchuck skill, while wearing his black belt and karate uniform. After he broke a wooden board with his head, Jesse Dorfman came galloping in with his blow-up ostrich costume. Davius Bunch finished the fashion round by marching down the catwalk in a Viking outfit.
Shortly after, there was an interactive intermission. During the intermission, Briana Marsiello and Angelina Campomizzi spoke with Mr. Hawthorne of 2014, Alex Guarnieri, and our Superintendent, Mr. Spirito. Once the intermission ended, the question round commenced.
The judges then narrowed down the competition to five boys. The finalists were; Paul Reilly, Steven Sutphin, Jake Grootenboer, Frank Giglio, and Jesse Dorfman. Each boy was asked a different question by a different judge. The questions were just as random as their answers. After this very amusing event, the judges discussed and chose a Mr. Congeniality and a Mr. Hawthorne.
This year's Mr. Congeniality is Paul Reilly. Our Mr. Hawthorne of 2015 is Jake Grootenboer! Congratulations to the participants and thank you to everyone who helped out. A special thanks to Ms. Russo for making everything happen.
Information for this article was contributed by Jason Bryant.