Young Artist Making a Difference: Jacquelyn Hampson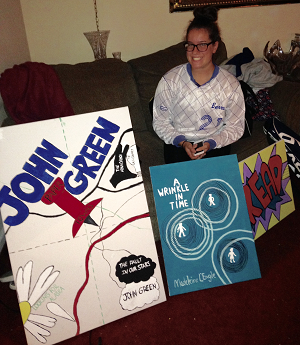 The highest award a Girl Scout Cadette can be honored with is the Girl Scout Silver award. Requirements for this prestigious award include completing a Cadette Journey (a workbook), identifying a way to help or improve the community, developing a plan to help, and seeing the plan through. A minimum of 50 volunteer hours working on the project is required to earn this award, but far more is spent working hard to make a difference. Hawthorne High School's freshman Jacquelyn Hampson is one of the few Girl Scouts to earn this award.
For her project, Hampson used her artistic abilities to paint book covers and collages for authors. These paintings will be hung in the Young Adult Center section of Hawthorne's Louis Bay 2nd Library. Hampson chose this particular project because not only does she have a passion for painting and drawing, but a collarbone injury did not leave her with much motion. Throughout the journey she enjoyed painting and letting out her creativity. She painted through her pain and is still working on a few more paintings.
Seeing results is what kept Hampson going and motivated. The best part for her was knowing all her hard work meant something in the end. Being a Girl Scout since Kindergarten has definitely paid off for the young artist as she continues to push through obstacles and do good for the community. Her advice to everyone is, "Be yourself and know the benefits and work towards making your goals happen."