Class of 2020: 8th Grade Orientation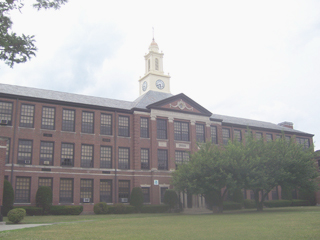 The annual 8th Grade Orientation was held Thursday, Nov.12, at Hawthorne High School. The Class of 2020 came to the high school and learned about their possible future at HHS.
The eighth graders were spoken to by Principal Daniel LaGrone, Student Activities Coordinator Gus Schell, and current students. Then eighth graders and their families were allowed to go throughout the halls and check out their potential future high school. Teachers stood in classrooms and explained the subjects or electives they teach. Clubs and sports were stationed in the cafeteria. Any questions asked, were answered.
Superintendent Richard Spirito, attended the orientation Thursday night. He was very pleased with way the night went and greatly enjoyed the HHS Marching Band performance and the video, which included comments from current and past students.
"I felt that the orientation was very informative and provided an excellent overview of the academic offerings and extra-curricular activities available to all students at HHS," stated Spirito. Overall, the superintendent enjoyed the "very successful event" and looks forward to his 8th grade daughter attending Hawthorne High School.
Principal of Hawthorne High School, Daniel LaGrone was also satisfied by the informative night. With the 100-120 eighth grade students and parents, he felt the night was "a huge success." While talking to the guests, LaGrone emphasized the advantage of the school acting as one big family and the strong academics and social support in the school.
In his opening remarks he said, "To be part of HHS means to be a part of a family and our community." Also adding, "At HHS, we produce fine young men and women that enjoy being members of the Hawthorne High School Bears family." He stated that the intention of holding an orientation was to develop a relationship between the future students and their parents with HHS. Important subjects such as social and athletic opportunities were also discussed with academics as well. All in all, the night went well.
Vice Principal Christopher Hunninghake, believed his first 8th grade orientation was excellent. He experienced the clubs and sports getting the most attention and showcasing all of what HHS has to offer. Hunninghake made sure the future freshmen were aware of all Hawthorne has to offer and advised them to "take advantage of the many opportunities provided."  In the VP's opinion everything was terrific from the band to the video to the food and the clubs. He looks forward to future events.
At the end of the night everyone went home informed and pleased. Positive interactions and positive feedback were witnessed throughout the night. From opening the night with Hawthorne's finest marching band and senior student testimonials to ending the night with a conversation between future students and staff.
The goal to deliver a crisp production to showcase the amazing school of HHS was indeed a success.