Hawthorne's Mr. Cupcakes Grand Opening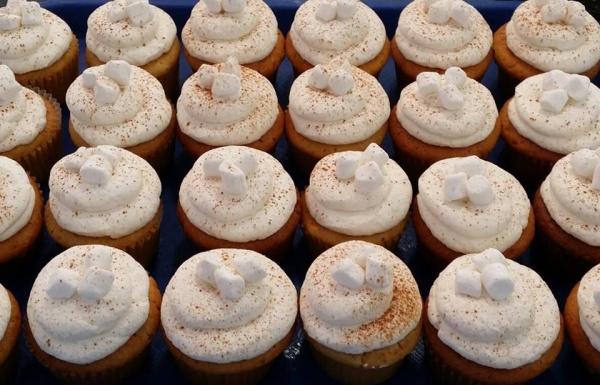 On Nov. 14, Mr. Cupcakes held its grand opening in Hawthorne (684 Lafayette Ave.). The new cupcake shop offered the first 10 customers a raffle ticket to win an iPad mini. The first 50 customers received a complementary box of four cupcakes and a free Mr. Cupcakes T-shirt. Mr. Cupcake himself attended the grand opening! Many Hawthorne residents lined up, hungry for tasty treats. Those in line were not disappointed.
One person in line was freshman Doria Hoffman. She went to Mr. Cupcakes early at 8 a.m. and waited two hours. "It was fun yet cold but it was worth it," said Hoffman. The HHS student found the Tiramisu and Holy Cannoli cupcakes to be her favorites. Her perspective on the store was positive as she described it as "cute and calm." She remembers it being very busy and the staff was very nice and willing to help. Arriving early meant four free cupcakes for Hoffman and a free t-shirt.
Freshman Sofia DiFilippo opted to sleep in and check out the store around noon. By then the rush died down and it took 5-10 minutes to be helped.  DiFilippo enjoyed the Red Velvet cupcake and found the $2 cost reasonable and worth the delicious taste. She describes the store as "kid friendly and definitely welcoming." She says the staff was respectful and knew what to do. The experience was pleasant and she plans on returning for more mouthwatering treats.
Not only are the cupcakes delicious, but there is also a wide variety of flavors. Some favorites include Red Velvet, Peanut Butter and Jelly, Hot Chocolate, French Toast, Chocolate Chip Smoothie, Birthday Cake, Chocolate Overload, Rocky Road, Chocolate Raspberry, Macaroon, Tiramisu, Holy Cannoli, Pumpkin Cheesecake, and many more! Anyone is sure to find something to please their pallet.
Overall, the opening was a success and a good time for those who attended. Popcorn and the game corn hole were offered outside and inside a cozy café was welcoming the hungry customers. Children played while others sat inside enjoying delicious cupcakes.