HHS Spring Musical 2016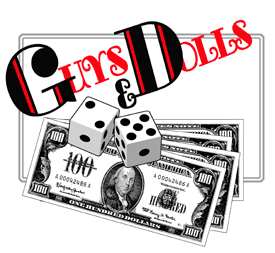 Hang on for a minute...we're trying to find some more stories you might like.
It's that time of the year again! Another spring musical is coming. Hawthorne High School is proud to bring you a revival of the glamorous production known as Guys and Dolls. This will be the second time that Mrs. Jill Hackett directed this show here at HHS. Guys and Dolls was the spring musical six years ago. Ten shows later, it's back! This show just celebrated it's 60 anniversary, which makes it extra special.  Everyone loves the Broadway show that debuted in 1955.  
In the show, Nathan Detroit, a con-man, makes the effort to find a new venue for his illegal crap games.  In desperate need to pay off a $1000 debt with a garage owner to host his game, Nathan Detroit bets Sky Masterson, a high rolling gambler willing to bet with high rewards attached, that he can't ask Evangelist Sergeant Sarah Brown on a date. Sarah Brown is the head of Broadway's Save-a-Soul Mission who couldn't possibly see herself dating a gambler. Sky and Sarah negotiate a deal that she will go on a date with him if he brings people into her next mission meeting. Meanwhile, Nathan's long term fiancee wants to get serious and finally get married.
Do not miss your chance to get up on stage! Audition sign-ups are January 12 through the 15. Actual auditions start January 19 through the 22. People of all talents are welcome to audition. Whether you can sing and dance, or not at all, there is a spot on stage for you! Crew and pit applications will also be available around the same time. We are all looking forward to seeing the revival of this phenomenal show up on the HHS stage again. Get ready for another successful spring musical!