Mr. Hawthorne: Mike Deitrich
Hang on for a minute...we're trying to find some more stories you might like.
Hawthorne High School's annual Mr. Hawthorne pageant on March 4 will be here sooner than you think. The boys competing are getting ready to strut their stuff for the crowd. The hard working boys were all asked a few questions. Senior, Mike Deitrich, is competing in the pageant for his first time and was asked these questions to figure out what kind of competitor he will be. He seems to be ready for the pageant and has a few tricks up his sleeve to win overall. Get to know Mike Deitrich.
Clarion Reporter: What are some of the things that you're a part of at Hawthorne High School?
Deitrich: I'm a part of the baseball team, National Honors Society, class cabinet, and of course the Liam Morrissey club.
Clarion Reporter: Why did you decide to take part in Mr. Hawthorne?
Deitrich: I've always loved to dance passionately and look seductive up on stage, so when you combine that with the time I will be spending with both Liam Morrissey and Ms. Russo, the goddess, how could I not give it a shot?
Clarion Reporter: Do you think you have a chance of winning?
Deitrich: I had 106 tackles, 2 years in a row! That's consistency and consistency will only lead me to victory in this competition. I don't see anyone else getting 106 tackles, so if you ask me, it's a no brainer.
Clarion Reporter: What do you think of your competition?
Deitrich: Competition is tough this year. There is a variety of athletes, performers, and they are all very cute. I am definitely a little worried.
Clarion Reporter: Who do you think is your biggest competitor?
Deitrich: My biggest competitor must be Liam Morrissey. He is the cutest of all the competitors. He even makes it hard for me to focus because I can't help but stare into his gorgeous eyes. Along with Liam Morrissey, Luke "Filipe" Sousa is one of my biggest competitors. His luscious, flowing hair also makes it difficult for me to concentrate.
Clarion Reporter: Tell us something about yourself, that you would want the audience at Mr. Hawthorne and the community of Hawthorne to know.
Deitrich: I want everyone to know that I am a ginger. Also, if people don't laugh at my jokes I will cry for months. Oh and I am the greatest man of all time! Liam better watch his back.
Hawthorne High School wishes the best of luck to all of the competitors in the Mr. Hawthorne pageant and Mike Deitrich. This year seems to be a tough group of competitors, so come help support the one you would like to win on March 4, 2016!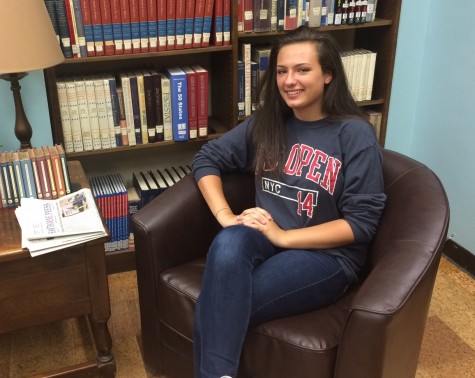 Veronika Alvarez, Staff Writer
Currently a sophomore at Hawthorne High School, Veronika Alvarez is writing for The Clarion for her second year. Along with writing articles for The Clarion,...