Bomb Threat at HHS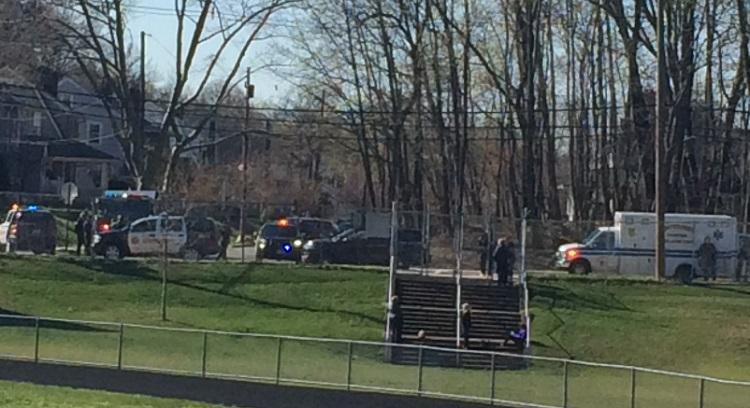 Jason Bryant & T. DiGeronimo, Contibutors
April 14, 2016
A bomb threat phoned into Hawthorne High School early Wednesday morning caused the whole school to evacuate to the bleachers on the football field. In a well-planned and orderly way, the students and staff exited the building on Parmelee Ave, avoiding the back of the school where the cars are parked because the threat said the bomb was in a car. Everyone crossed Warburton Ave and headed west toward Goffle Road and then entered the football field area through the Warburton gates. Teachers took attendance and assured the administration that all students were present and safe. Students remained calm and orderly throughout their 90-minute stay in the bleachers.
The Hawthorne Police Department met the Passaic County Sheriff officers and bomb squad to begin the search of the entire school and all cars surrounding the schools. Students could see the explosive-sniffing dogs going from car to car doing their important job. The Hawthorne fire department and ambulance corp. stood by in the event of an emergency.
Ironically, an evacuation drill had been planned for this same day during lunch. There was no need for the drill since the students participated in the real evacuation.
After returning to the building, Principal LaGrone gathered all students in the auditorium for a short meeting. He explained what happened and what the officers had done to make sure all students and staff were safe. Superintendent Spirito and Police Officer Carr also spoke to the students. In addition, automated messages were sent out to parents throughout the morning keeping them up to date on as the events unfolded.
Hawthorne was not the only school to get the bomb threat on Wednesday. Twenty-one other schools and Bergen and Passaic counties were also affected including Lodi High School, Fair Lawn High School, Passaic Valley High School in Little Falls, Dwight Morrow High School in Englewood, Paramus High School, Leonia High School Annex, Fort Lee High School, Hasbrouck Heights High School, Hackensack High School, Garfield High School, Clifton High School, three schools in Midland Park and six schools in Elmwood Park.