POETRY DAY AT HHS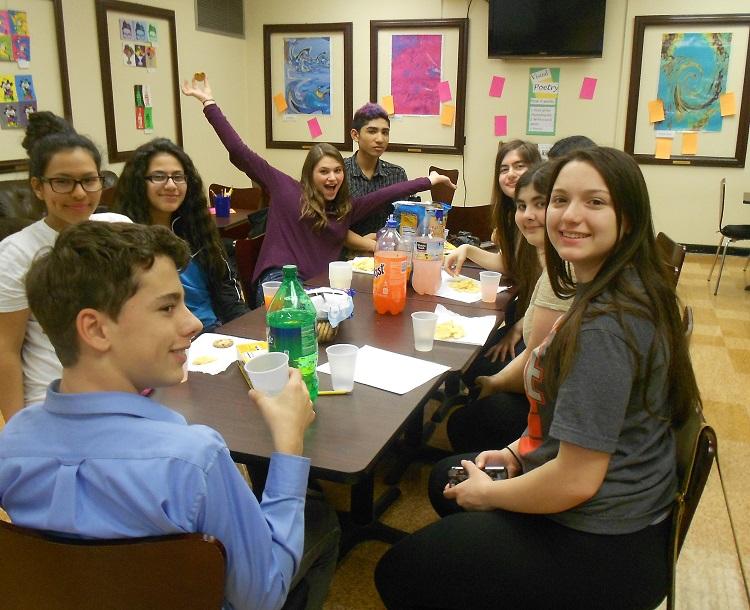 To celebrate National Poetry Month in April, Hawthorne High School's Creative Writing Club sponsored HHS Day of Poetry on Wednesday, April 13. On this day, all students, faculty and administrators were welcomed to participate in a variety of poetry activities in the Library Media Center.
Visual Poetry encouraged students to use Photoshop to digitally manipulate a picture into abstract art and then write a poem sparked by the new image. These works of visual poetry were then hung in the Student Art Gallery.
Found Poetry allowed students to "find" a poem hidden in the text of a discarded book. Blocking out all words that were not part of the poem revealed a unique message.
Random Line Poetry brought students and staff to the computers where a shared document allowed them to add a line of poetry to a collaborative piece that grew to a 45-line poem that will be published in the school's literary magazine.
Poems on Glass gave the students window markers to write and illustrate their unique or favorite poems on the windows of the library.
Shakespeare Challenge encouraged students to match poetic lines from Shakespearean plays to the play. The challenge papers are entered into the April Library raffle for a $20 gift card to Hot Diggity.
To end the day of poetry, the Creative Writing Club hosted a Poetry Party to celebrate a very successful school-wide event.
The poetry celebration continues throughout the month of April. Students will have the opportunity to add to the poetry that decorates the library, to enter the Shakespeare Challenge raffle and to enjoy the poetry books on display.