Are You Naughty or Nice?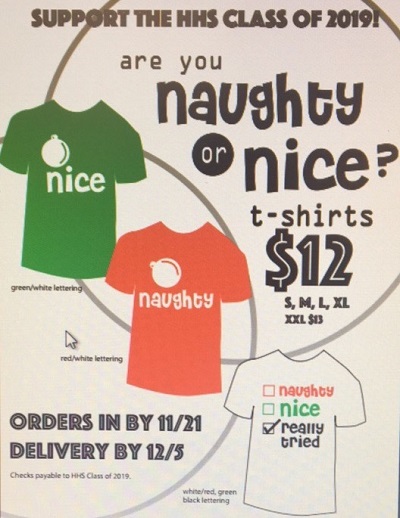 Add a new shirt to your wardrobe!
By purchasing your own "Are you Naughty or Nice?" t-shirt, you can help support the Hawthorne High School Class of 2019. After many years of discontinuation, the Sophomore Class decided to bring back the shirts better than ever! When purchasing your own t-shirt, you have a choice between a red "naughty" shirt, a green "nice" shirt, or a white "I really tried" shirt. The shirts are only $12 and make for a great family Holiday card!
If you are interested in purchasing a t-shirt, please contact the Sophomore Class Advisers, Mr. John Di Lonardo or Mrs. Marisa Fusaro.
Do not miss out on this wonderful opportunity to get your very own holiday themed t- shirt. The forms are due by November 21 and all checks should be made payable to HHS Class of 2019. Order now to get your shirt delivered by December 6. On behalf of the Class of 2019, thank you!