Mr. Hawthorne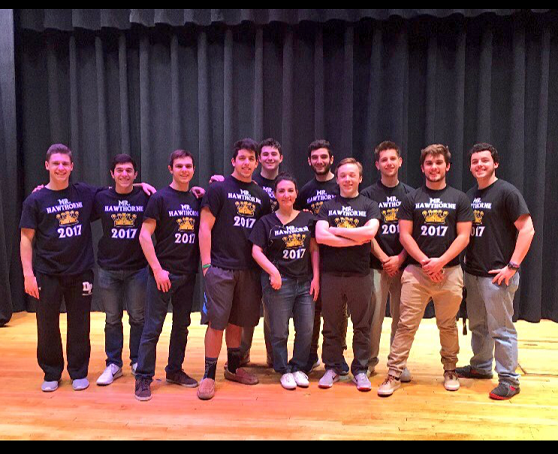 Hang on for a minute...we're trying to find some more stories you might like.
The sixth annual Mr. Hawthorne competition took place Saturday, March 4. The evening was full of excitement, due to all the dancing, singing, and everything in between. Ten contestants competed for the crown with their surprising talents and astonishing fashion sense. This year's panel of judges consisted of Ms. Cheryl Pasquale, Mr. Ryan McMann, Ms. Marissa Fusaro, Ms. Kelly Clifford, and Mr. Michael Davidson. The five judges had a difficult time in deciding who would take the crown this year.
The competition kicked off with a video that introduced the audience to the Mr. Hawthorne competitors. Once the screen went up, the boys made their appearance down the auditorium aisles, dressed as sexy doctors. This led up to the opening dance number, which was rather interesting.
After the first dance, was the talent portion of the night. Leading off was junior, Pat Moorhouse. Moorhouse took the stage as Bob Ross, painter extraordinaire. His performance was full of dancing and foliage. The crowd went crazy for Moorhouse's stellar dance moves and lack of pants.
Up next was senior, Mike Carone, who showed the audience what true talent looks like. Carone performed a mashup of top musical hits on the piano. His voice gave the crowd goosebumps.
Senior, Alex Ferriola, wowed the crowd with an interpretive dance that involved the help of senior, Brendan Rooney, and a beach-ball. His dance was very moving and skillful. It was definitely a crowd pleaser.
Next was junior Rocco Pecoraro. Rocco's performance was basically like being at a Beyoncé concert. He had everyone on their feet with his powerful execution of the song "Single Ladies."
Marc Crilly, a second year competitor, brought out the guitar again and sang songs from Ed Sheeran to Aminè. He sang "Treat You Better" by Shawn Mendes, "Shape of You" by Ed Sheeran, and he rapped "Caroline" by Aminè. Marc had many fans in the crowd.
The next contestant had the crowd laughing with his performance taken from a scene in the movie Ghost. Jon Di Filippo, with the help of the lovely Ms. Angela Wright, put on a hilarious performance with a pottery wheel. His final sculpture came out as little figure of our principal, Mr. La Grone.
George Nadirashivili came after such an entertaining act with an even stranger performance. His take on the "Tape Face" act from America's Got Talent had everyone in the audience laughing. He started his performance with a pair of oven mitts, and ended it with Mr. McMann on stage feeling rather uncomfortable.
Last year's Mr. Congeniality, Luke Sousa, came back to compete for the crown with a weather broadcast. Sousa appeared on stage with an inside out umbrella and a lack of pants. His performance "blew away" the crowd.
Junior, Carter Mascis, put his own twist on Ricky K's rendition of "The Story of Love" which appeared on Britain's Got Talent. His pink suit was just as unforgettable as his dancing. Mascis really showed the crowd how confusing love can be.
Last but not least, Gio Occhipinti put on quite the show. His performance of "Soul Man" by the Blues Brothers was spot on. Occhipinti was accompanied by a band that consisted of Tom Gallo, Noah Vander Eems, Bobby Getchell, Konner Kozlowski, and Miguel Rodriguez.
The next round of the competition was the fashion round. Patrick Moorhouse dazzled the crowd with a butterfly princess costume. Mike Carone strutted his stuff with a pipe and a newspaper, his costume inspired by typical dads. Alex Ferriola surprised the crowd with a Flo from Progressive costume. Rocco Pecoraro paid tribute to Blades of Glory with his rendition of Chazz Michael Michaels. Jon Di Filippo showed off his creativity with a chick magnet costume. Following Jon, was Marc Crilly dressed as the lovely Ms.Wright. George Nadirashivili showed off his feminity, dressed as a flower girl. Luke Sousa portrayed the struggle of a single mother with three children. Carter Mascis swooned all the ladies with his version of the "Love Doctor." Gio reminded everyone of our childhood days with his cowboy getup to resemble Woody from the classic movie Toy Story.
The question round came next and the top five competitors were Luke Sousa, Jon Di Filippo, Alex Ferriola, George Nadirashivili, and Gio Occhipinti. After this, the judges decided who would be crowned Mr. Congeniality, alongside, Mr. Hawthorne. Ms. Russo walked on stage and opened the Mr. Congeniality envelope that held Gio Occhipinti's  name. Then Mike Dietrich, Mr. Hawthorne 2016, then crowned George Nadirashvilli as Mr. Hawthorne 2017.
The Clarion asked Luke Sousa what he would change about the show. Sousa answered with, "The winner."
A reporter then asked Di Filippo how he felt about the show, and he said, "I'm actually very upset that I lost. I'm also getting held back so I can do it again next year."
Gio Occhipinti was asked what it feels like to be named Mr. Congeniality, and he said, "It's the second best feeling in the world!" When asked what the first best feeling was, Occhipinti told The Clarion, "I don't know, go ask George."
Finally, we caught up with Mr. Hawthorne himself, and he was asked what it feels like to win such a prestigious title, and Nadirashvilli pensively said, "I don't know what you're talking about."
Congratulations to all the contestants, the stage crew, and Ms. Russo for an incredible show!