Second Annual Paws in the Park!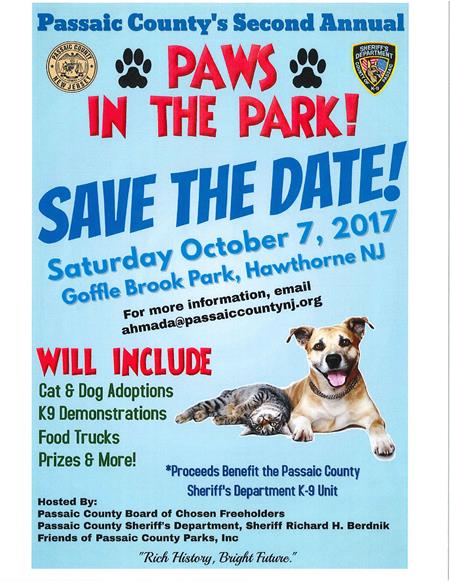 The second annual Paws in the Park took place on October 7 at Goffle Brook Park in Hawthorne from 10am-3pm. All the proceeds raised from the event will go to the Sheriff's K-9 Unit.
Paws in the Park included:
Cat and Dog Adoption
K9 Demonstrations
Food Trucks
Prizes!
The list of scheduled events:
10:00 am-12:00pm – Discounted Microchipping
11:00 am K-9 Demo
12:00 pm – Blessing of the Animals
12:30 pm – Pet Costume Contest
1:00 pm – K-9 Demo
2:00 pm – Unique/Ugly Dog Contest
2:30 pm – Tail Wagging Contest
Paws in the Park also offered memorial bricks that people could purchase. The bricks will be placed in the memorial pet garden located at the bottom of the hill by Lambert's Castle in Paterson, located in the Garret Mountain Reservation. These bricks will surround the  Sheriff's K-9 memorial, for K-9s that retired or fell while fighting in the line of duty. The proceeds of these bricks will benefit the Passaic County Sheriff's K-9 unit.
Paws in the Park was a huge success with a lot of animals being adopted and getting new homes.