New Chemistry in Hawthorne High School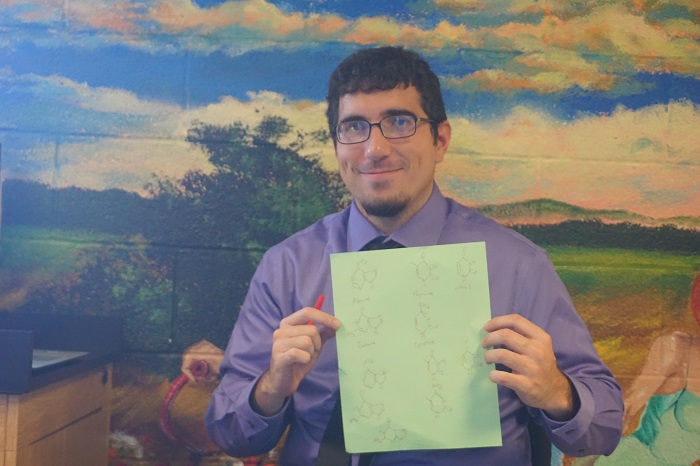 Mr. Maranhao recently joined the Hawthorne High School staff as a Chemistry Honors and CP teacher. Prior to becoming a Bear, Mr. M worked at Westfield High School for a year. After being here for a few short weeks, students have already started forming bonds with him, literally! Here is the interview Mr. Jack Maranhao happily agreed to.
Clarion: What college did you attend, when did you graduate, and do you have any fun college stories?
Mr. Maranhao: I went to Rutgers in New Brunswick and I graduated in 2013. I've got a ton of fun stories of me dorming with my friends from high school.
Clarion: Do you have any advice for seniors entering the college world?
Mr. Maranhao:  College…enjoy your time there. It's going to be a new experience, on your own. So, it's really teaching you to be self dependent, but it's going to be a great time! After that, it's finding a job.
Clarion: What did you study in college, and did you always have a passion for chemistry?
Mr. Maranhao: I studied chemistry in college. When I got to high school I was really into chemistry because of my teacher. Before that, I thought, ooh chemistry let's blow some stuff up! But it's more than that, and I actually really liked it, which is why I studied it in college.
Clarion: Are you enjoying your time so far at Hawthorne High School?
Mr. Maranhao:  Yeah, it's been great! Students have been really fun, I met some pretty nice people. Teachers have been helping me along. It's been a pretty great time!
Clarion: What are some of the challenges being a high school teacher?
Mr. Maranhao: That's a hard one! Definitely getting used to the schedule. Trying to play off of that, my classes are pretty decently sized, but having to deal with 20-some odd teenagers is a challenge in itself! 
Clarion:  You have stated that you are engaged, tell us about your fiance.
Mr. Maranhao:  Well her name's Jennifer, she is a math teacher over in Linden. She's the reason why I started teaching. We've been dating for 7 ½ years. She kept pushing me to teach, I never really went after it but she would not let go!
Clarion: If you had to do anything other than teach chemistry, what would you do?
Mr. Maranhao:  I would play professional basketball.  Unfortunately, I'm kind of small and not that fast!


Clarion: What is your favorite food?
Mr. Maranhao: "OOH! Chicken Parm sandwich! (sung)"