Paws-A-Tive Photography Contest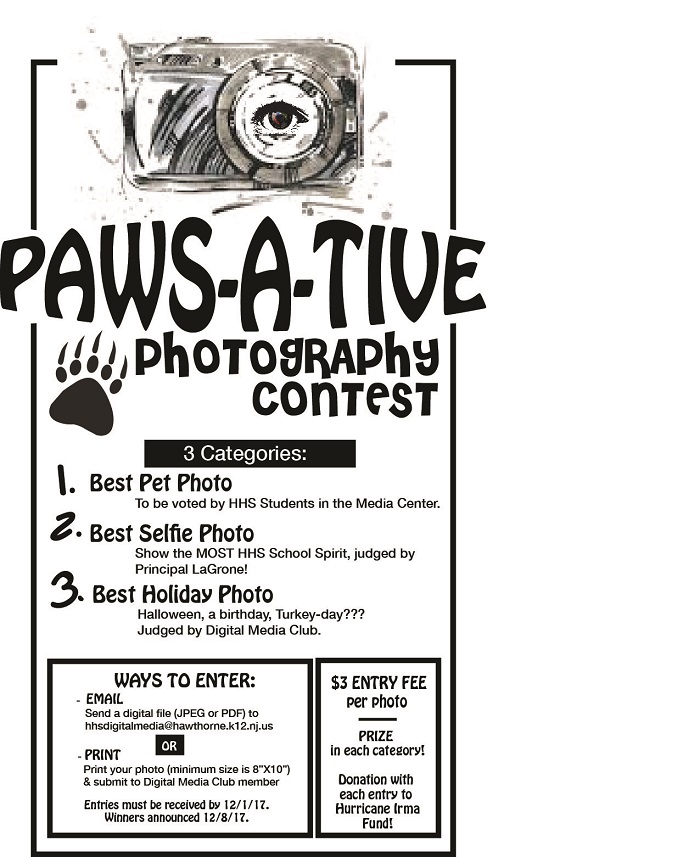 Calling all photographers the Paws-A-Tive photo contest is here hosted by the Digital Media Arts Club!
This contest has three categories: Best Pet photo, Best School Spirit Selfie, and Best Holiday photo! Each category has a different judge: Best Pet photo is judged by the Hawthorne High School students in the Media Center, the Best Selfie is judged by our principal Mr.LaGrone, and the Best Holiday photo will be judged by the Digital Media Arts Club. Each category has a fee of $3 per entry, with a prize for each category, and with every entry a part of it will go to Hurricane Irma relief!
To enter this contest you can either email a digital file (JPEG or PDF) to [email protected] or print your photo (minimum size is 8" x 10") & submit it to a Digital Media Club Member…all entries must be in by 12/1/17. The three winners will be announced 12/8/17.
So what are you waiting for? Start taking pictures and enter this Paw-some contest today!