Pumpkin Book Art Workshop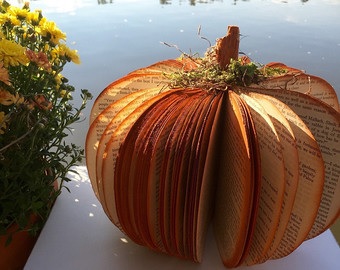 On Tuesday, October 24, Media Center hosted a workshop that involved making pumpkins out of discarded books that are no longer used. The paper pumpkins could be made in many different sizes.
The library was decorated in festive lights. The pumpkin book art could be used for any occasion like Halloween and Thanksgiving. You could also use it as a decoration for your room. Making it is pretty simple and here are the materials that you would need: an old book that you or anyone you know no longer uses, scissors, a pencil, paint, glue, a green stem (which you make with green construction paper) and  ribbon to make the pumpkin look all nice and pretty.
The instructions to make the pumpkin is also pretty simple: first, you cut the cover off of the book, then you draw an image of the pumpkin of the front page, then you cut 2 pages (so that you can see if you like how it looks). If you like what you have done, then you can trace out the page that you cut out.
You continue to cut off every page of the book. It should be cut inside the drawing line. The next step that you have to do (after you have finished cutting the book) is to break the spine of the book in quarter inch sections. After that you paint the outer edges and then you glue the outer edges of the spine and let them dry. You then insert the stem that you made from construction paper and glue it to keep it place. Lastly you add a ribbon on top of your pumpkin.