Hawthorne High School Winter Concert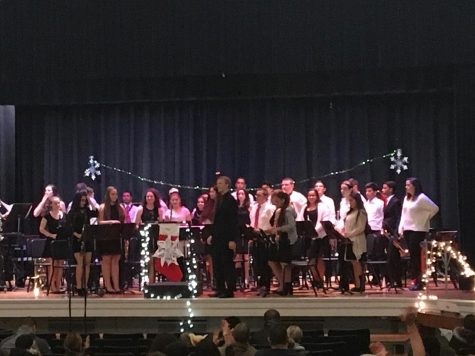 The winter concert was held in the Hawthorne High School Auditorium on December 20, 2017.
The concert included musical numbers from the chamber choir and the concert band. The concert band has been working on the repertoire since the beginning of the school year under the direction of Mr. Keith Williams. The students practiced their music in band class, sectionals, lesson groups, and outside of school. Chorus practices take place after school once a week, and these practices are led by Kimberly Griffin.
The concert band played pieces including "The Eighth Candle", "Sleigh Ride", "A Festive Christmas", and "The Lighter Side of Christmas". These pieces are classic Christmas songs and medleys. Additionally, "The Eighth Candle" is a slower Chanukah song that is a favorite among the band students.
The chamber chorus sang, "The Circle of Life", "Candlelight Canon", "In Dreams", and "The Hallelujah Chorus". "The Hallelujah Chorus" was accompanied by the concert band. Members of the audience were asked to come up and sing along, which many did, continuing the Hawthorne High School tradition.
The auditorium was filled with proud parents and a supportive administration. Now that the concert is over, the music students are given a concert reflection and are expected to reflect on their strengths and weaknesses. The music students look forward to the spring concert and are working and practicing in preparation.