The HHS Panini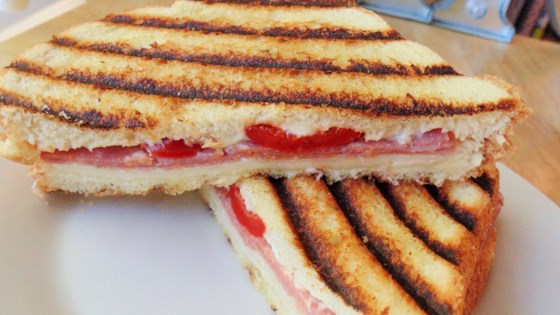 Hang on for a minute...we're trying to find some more stories you might like.
The cafeteria brings out a variety of great meals everyday for the students.
The most anticipated meal is no doubt the panini. The panini is one of the most purchased meals everyday. Hawthorne High School serves a different panini everyday. On Mondays the meatball parmesan panini is served. On Tuesdays it is the spicy chicken panini (a second favorite) is served. On Wednesdays the pepperoni panini is served. On Thursdays the Italian panini is served. And last but absolutely not least, on Fridays our favorite panini, the chicken Parmesan panini, is served.
All of these paninis can only be purchased in the old cafeteria.
Meatball Parmesan paninis are a great Monday meal. Personally, you can't go wrong when buying this meal. This meal is very delicious with the crispy bread and the healthy meatballs. However, the meatballs sometimes may be cold. This is a great meal, but not one of the best paninis the school lunch has to offer. 
We look forward to lunch every Tuesday, knowing the spicy chicken panini will be served. If we are lucky, there will still be some left for us to snatch up and devour. The chicken is just a little bit spicy, but can be easily eaten. The cheese also adds an incredible amount of flavor. I definitely recommend purchasing this sandwich for lunch every Tuesday.
Wednesday is probably the slowest day for paninis to be served. Every Wednesday the pepperoni panini is offered to the students of Hawthorne High School. This panini is still good, but it is not a school favorite. This panini contains pepperoni and cheese. The panini doesn't have many ingredients in it, which is most likely why the panini is not as good as some of the others.
A very underrated panini served at Hawthorne High School every Thursday is the Italian panini. Many students overlook this scrumptious meal, although this one may be a top three panini to others. The Italian panini contains provolone cheese, ham, and salami. This may not be the best panini, but we still recommend it to everybody.
No doubt about it, the chicken Parmesan panini is the best meal of the week. This delicious sandwich is served every Friday and is anticipated by many students. These paninis sell out very quick, so get your spot in the lunch line early!
In conclusion, some of the best meals served here at Hawthorne High are the delicious paninis.

Sean Gordon, Staff Writer
Hi, my name is Sean Gordon, I will be writing articles for The Clarion this school year. I am a sophomore here at Hawthorne High School and play basketball...