Open Play Fridays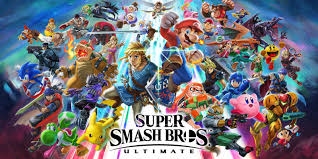 Hawthorne High School's Media Center recently acquired a new Nintendo Switch. This console, along with a copy of Super Smash Bros video game. They have been placed in the Makerspace.  However, up until now, it was only available to those who had signed up to compete in beginner or advanced tournaments.
Starting this Friday, however, the console will start being available to all students during Friday lunch periods. Playing will be first come first serve with students playing the winner of a previous match. Currently there are only two controllers which would mean only two people can play at a time.
However. students are encouraged to bring in their own controllers. If students want to bring their own controllers up to eight people can play at a time. An important note is that while students can bring in their own controllers, they can not bring in their own consoles.
To sign up to participate in the Friday open play students must come to the Makerspace at lunch and sign in. After  signing in as stated above, students will play in a first come first serve fashion with the winner continuing to play.
Students, however, will not be able to play more then three games in a row. Anyone who is found to be skipping the line or disregarding rules will not be allowed to participate in open play for the rest of the year.