Hurricane Maria: Rescued Dogs Arrive in Morristown From Puerto Rico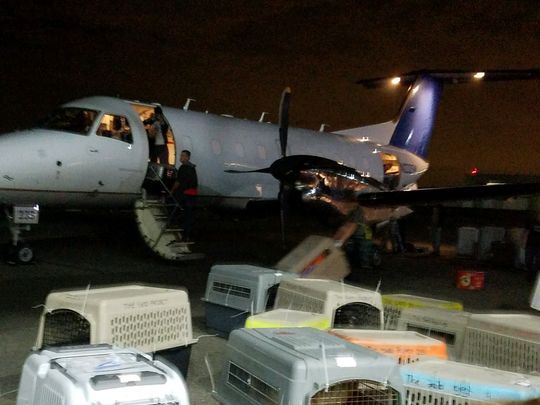 Hang on for a minute...we're trying to find some more stories you might like.
Another 181 pets from Puerto Rico are on the journey of finding a new home in New Jersey after hurricane Maria tore through the island. Thanks to St. Hubert's Animal Welfare Center on Thursday morning several dogs, cats and a litter of puppies arrived at Morristown Airport to find a new home. This was the fifth animal airlift from Puerto Rico, where shelters are freeing space for household pets displaced by the hurricane.
After the animal's arrival, they were moved to a staging area for medical evaluations. Nora Parker, goodwill ambassador and assistant to the CEO at ST. Hubert's said, "We took in 58 cats and 33 dogs, of all sizes." The ST. Hubert's network was assisted by volunteers from other shelters and volunteer veterinarians from the New Jersey Veterinary Medical Association. The animals that arrived from Puerto Rico were already in shelters before Hurricane Maria hit, but many of them were from other Caribbean islands affected by Hurricane Irma. It is said that many of the animals wont stay at ST. Hubert's but they'd go to partner shelters. Those shelters include Brandywine Valley SPCA in West Chester, Pennsylvania and the Dakin Animal Shelter in Springfield, Massachusetts. Once the animals from the first flight are relocated more volunteers will clean and decontaminate the facilities in time for the next rescue flight which is scheduled for Saturday night. 
After the first arrival of pets, the plane was then filled with donations of diapers, feminine products, and other human essentials which were collected in the past week to be sent back to Ft. Lauderdale, Florida. From there the plane will refuel and head back to Puerto Rico to bring in supplies there too, then they will load up another load of animals seeking a new home.
"People have overwhelmed us with their kindness," Parker said regarding the donations which have continued to pour through.