Reading Lounge Café: A Great Place for Students
Hang on for a minute...we're trying to find some more stories you might like.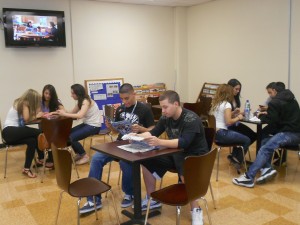 Have you ever had to eat your breakfast, sitting on the floor by your locker? Well that is no longer necessary because HHS just opened the Reading Lounge Café in the back room of the Library Media Center. The café is a great place for students to study, relax, eat, and chat. Before the café opened up, HHS students had no place to hang out or do their homework. With the installation of the café, everyone now has the perfect place to go. A television, books, magazines and tables for eating are all available for student use.
"I think the students of Hawthorne deserve the best. This is a place for them to see how much Hawthorne High School cares about them," said Theresa DiGeronimo, English teacher and head of the Library Duty Team.
Although this is a great addition to the school, it is a privilege, not a right. So students are expected to take care of and respect the café. It is required that students clean up after themselves and speak softly to respect students who may be studying. Students are not allowed to bring in cafeteria food or food from outside vendors–only snacks. Also, everyone is expected to use the furniture as it is intended, not as bag holders or foot rests. Lastly, food will be only allowed in the café, not any other part of the library. Although the Reading Lounge Café has several rules, they are well worth it. Each rule is understandable and should truly be respected. This café was created to assist the students by giving them a peaceful place to study and tables to eat their food, so a few rules are no big deal.
"The Reading Lounge Café had a relaxing atmosphere and had many interesting new fiction books to read. I definitely think the café is a good addition to the high school," William Brown said about his experience at the café.
This café is a great new place for students to relax and do their work. It is a great addition to the high school and will hopefully be respected by the students.