A Different Type of Thanks: An Opinion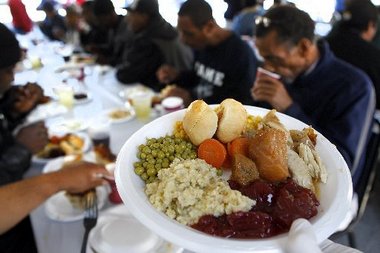 Most of us have family over for Thanksgiving and we give thanks for all that they have done throughout the year. Others stay home and just have a small dinner; relishing in the day off, the food, and the exciting football games.
But do you ever think about where the homeless people go on Thanksgiving?
Well, there are many places for the homeless people to go and stay and have a nice meal with other people. Many people volunteer their time to work at soup kitchens and give the homeless food and a warm place to stay.
I personally spend some Sunday's at a homeless shelter in Paterson, called Jericho Road, for men with my youth group at church.
We always bring food for them and they are so grateful because they don't always get the best meals. The men always look forward to the Thanksgiving dinner that we provide. We hang out, talk with them, and share our stories with them.
Although it is not on the traditional day of Thanksgiving we still treat it as if it is, and our patrons feel the same.