Ms. Clifford: Teacher, Advisor, Friend
Allexa Wozniak/Staff Photographer
Hang on for a minute...we're trying to find some more stories you might like.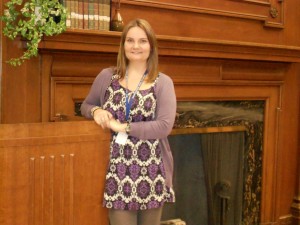 Kelly Clifford, English teacher at Hawthorne High School, is one of the many great teachers at Hawthorne High School. Clifford has been teaching at Hawthorne for six years. She has taught every grade and is also class advisor for the junior class. She is currently teaching English I, English I Honors, English III, and also English IV. Not only does she teach many classes, she is also the National Honor Society Advisor, the group advisor for Hawthorne High School's Peer Leaders, alongside Matthew Corvo. Clifford graduated Kutztown University in 2002 with a BA in English, and she received her teaching license from St. Peter's College in 2005 and her masters from St. Peter's in 2007.
In school year 2010 – 2011 Clifford won her Governor's Teacher's Recognition Award. "I was just happy to be nominated, so when I was told that I had won, I just couldn't believe it! I really love my job and my students, so this was just so exciting for me," said Clifford.
"I think Ms. Clifford is a great teacher," says Anthony Macines, one of Clifford's students. "Because of her I have not been to summer school for English." Not only does it seem that students enjoy having Clifford as a teacher, she also enjoys Hawthorne and its students. "I love Hawthorne. I really believe that the students here are better than all the rest! I have come to see that Hawthorne is really a tight community, and we have great school pride," said Clifford. "The students and faculty are really supportive of each other, whether going to sporting events, attending our plays and musicals, supporting our art programs, or going to see our musicians perform. The students here really enjoy getting involved, and I love that aspect about Hawthorne."
When Clifford is not in school she enjoys spending time with her friends. She also loves going to live concerts and going to the gym. She also reads a lot. Clifford is one of the many great teachers to teach in Hawthorne.