Goodbye to Mr. Patrick McQueeney
Allexa Wozniak/Staff Photographer
Hang on for a minute...we're trying to find some more stories you might like.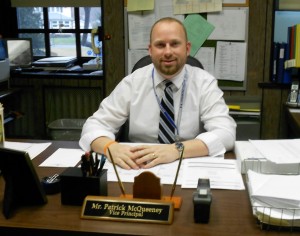 Patrick McQueeney, Hawthorne High School's vice-principal, is leaving HHS this February to continue his career as the vice-principal at Randolph High School. Mr. McQueeney took over for our previous vice-principal, Daniel LaGrone, in 2010.
I recently spoke to Mr. McQueeney about why he is leaving Hawthorne and how he feels about it. He said that Hawthorne High School is "a very close-knit group with a family atmosphere." It has "great kids, a great staff, and a lot of support from the parents," which he says makes it, "very special," compared to previous schools that he has been in.
The move to his new job was inspired by the increasing intensity and demands of the job at HHS, which, Mr. McQueeney says, were "increasing with the cutbacks and the need for more things to be done." Therefore, he could not dedicate the increasing amount of time in a perfect ratio with his family. Randolph has "a little more availability," and is good for him to balance it with his family.
Although I haven't spent a lot of time in the VP office for doing something wrong, this past October, I did get a good opportunity to get to know the real Patrick McQueeney. In fourth period lunch, my friend Joe and I decided it would be a funny idea for him to squat me on his shoulders, as if he were lifting weights. We made eight complete squats, had everybody in the lunchroom laughing along with us, before the security guard  brought us to Mr. McQueeney's office. We sat there laughing uncontrollably at what we had done, until Mr. McQueeney walked in and we choked it back as the security guard told him of our shenanigans. I thought we were in for it, until he said, "I'm just going to file this under stupid stuff. If you guys wanna bench each other, squat each other or anything like that, please do it somewhere else." He then told us to go back to the lunch room and behave. That's when it hit me that Patrick McQueeney was a really great guy with a great sense of humor when it came to silly, little insignificant things like the stunt that we pulled off.
It has been "a wonderful experience," said Mr. McQueeney and leaving is, "very bittersweet." He hopes that he will always be considered part of the "Hawthorne family." He said that he will "absolutely, without a doubt" miss Hawthorne High School. We will surely all miss him as well.
Dario Sforza, previously of Secaucus High School, will be replacing Mr. McQueeney as vice-principal effective February 23, or sooner.