One of a Kind : Mr. Van Winkle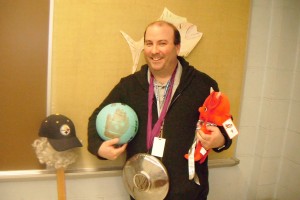 What comes to mind when you hear the name Van Winkle?  Do you think of the street in Hawthorne?  Do you think of the infamous murders in the Van Winkle house on Goffle Road?  If you're in Hawthorne High School, you probably think of Hawthorne's beloved English teacher,  Sean Van Winkle.
Van Winkle has been a teacher at Hawthorne High School for 12 years and has taught seven different classes which include: English 4, English 1, Journalism, Science Fiction and Fantasy, the AHSA class, and Communications.  He also has been a part-time English Professor at Passaic County Community College for 13 years.
Van Winkle's favorite course is Journalism.  He, himself, wrote for the Hawthorne Press for about 12 years, and he said, "Teaching Journalism was an honor and a privilege."  He is impressed by what the students have done over the years with HHS's student newspaper, The Clarion.  Van Winkle does not teach Journalism anymore.  Because he had to teach six sections of Communications, he gave up the Journalism class and the student newspaper which is now run by Mrs. Di Geronimo.  "With Mrs. Di Geronimo heading the paper and teaching the class, only good things will come of it," said Van Winkle. " She is fantastic."
Van Winkle has interests in all things war related.  His father was killed in Vietnam during the Vietnam War.  Because of the loss of his father, he has the utmost respect for those who serve in the military.  He also usually watches movies pertaining to the Vietnam War, but thanks to one of his students he now has interest in World War II and has started watching the mini-series Band of Brothers.  "What I have seen so far is breathtaking." said Van Winkle. "Steven Spielberg is a genius."
Displayed throughout Van Winkle's classroom are gifts that his past students have given to him.  Past students have given him: a Volkswagen hubcap that was made into a necklace, his podium, his computer table, different artworks created by the students, and the closet in the back of his room was made by a student who knew he loved music.  Many students say that Van Winkle is their "favorite teacher" and his humble response is,"I just hope you learned something."  Van Winkle always tries to bring humor into his classroom and always tries his best to be upbeat.
"I love my job, I care about my students, and I love HHS," said Van Winkle.  He wants his students to leave his classroom with the knowledge that he has passed onto them.  "For my past and current students, always remember to be true to yourself," said Van Winkle, giving parting words of advice.