Ms. Smith: An Extraordinary Person
Sabrina Mohsin, Staff Writer
March 29, 2012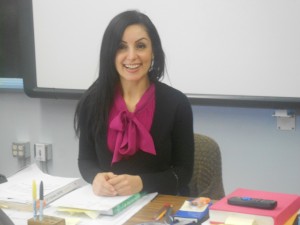 If you visit room 300, you will meet a fascinating person. She has traveled to 52 countries, seen many different cultures, and participated in eclectic activities. Her past experiences have influenced the person she is today. This person is the one and only, Cheryl Smith.
Smith was raised in Turkey. She was the top student in her school and went on to major in English Literature at Istanbul University in Turkey. She came to America to further her education by majoring in mathematics at William Paterson University in Wayne, NJ. Before she became a math teacher, Smith worked as a flight attendant on Turkish Airlines. She even flew with Turkey's President, Süleyman Demirel, in 1995.
In 2008, Smith became a math teacher at HHS. She now teaches pre-calculus and AP Calculus. Next year she will teach AP Statistics. "I love being a teacher at HHS. I am very proud of my students," said Smith.
After being a teacher in the daytime, Smith becomes a runner in the afternoon. She is practicing for her third half marathon in NYC in April of this year. In the past, Smith was involved in triathlons. She did two sprint distances and one Olympic distance triathlon. Although Smith does not participate in triathlons anymore, her past experiences certainly make her one of the most interesting teachers at HHS.