New School, New Faces, New Teacher: Ms. Lyness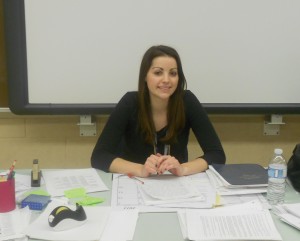 Who are the men and women who wake up early every weekday to drive to school no matter how far they live?  Who are the men and women who give up their breaks throughout the school year to grade papers written by students?  Who are the men and women who care enough to give students the education they deserve?  Teachers are those people.  No matter what age, no matter what grade, teachers are the root of every classroom and every lesson learned in that room.  Katherine Lyness is a new teacher at Hawthorne High School who wakes up early every day to drive to work, who gives up her breaks to grade papers, who cares about her students and the education she provides them.
Lyness is one of five siblings who frequently travels to California to visit her cousin and best friend.   Lyness graduated from Mountain Lakes High School and went on to Drew University where she majored in history and minored in political science.  Some people choose to switch majors throughout the years of their schooling, but Lyness did not.  "As soon as I took my first history class at Drew I was hooked," said Lyness.
While studying at Drew University, Lyness got her Master's in Arts and Teaching (MAT).  This is Lyness' first year teaching, but she did student teaching at Orange High School where she taught United States History I.  This year at Hawthorne High School, Lyness teaches United States History I and Contemporary World Affairs class.  Contemporary World Affairs class is a class where students get to openly discuss and sometimes debate current topics that are not only affecting our country but the world.   "This class allows students to have an opinion and learn to support that opinion with facts and information," said Lyness.  Lyness says she enjoys seeing her students in that class get involved in the political conversations.
Lyness wanted to become a teacher for a long time.  It wasn't until a history class that she took in college with the head of the history department where she realized that a great teacher can affect his or her students in a positive manner.  "I have always wanted to make a difference," said Lyness, "and even if that difference means having a positive effect on just one student, it would be worth it."
Many students enjoy her class and like her teaching style.  "I try to employ many different teaching strategies," said Lyness, "because I know not all students learn in the same manner."
Lyness enjoys teaching at Hawthorne High School and says that she is lucky to be teaching a group of students who all have different personalities that add an interesting dynamic to all of her classes.  "My students make it worth it to get up early in the morning and drive to school," said Lyness.