Farewell to a Wonderful Teacher: Corrine Pacelli
From putting herself through college to teaching at Hawthorne High School, Corrine Pacelli has been a hard-working and a beloved woman who, now that she has announced her plans to retire, will be missed by students and staff.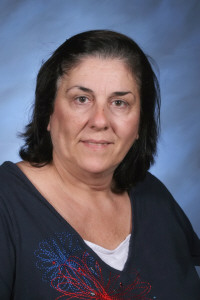 Many at HHS would be surprised to learn that teaching was not Pacelli's first career. She worked as a Licensed Practical Nurse from 1975-1985 in the New Nursery/Intensive Care Nursery.  Pacelli also worked at St. Joseph's in Paterson, in the Medical Surgical Unit at Mountainside Hospital in Montclair, NJ, and at Maximum Security at Essex County Overbrook Mental Institution. Although she loved her job as a nurse, Pacelli says that she didn't see many miracles and felt she wanted to do something more.
Pacelli then decided to go to college and major in Special Education with a minor in Elementary Education.  Pacelli put herself through college by working many different jobs.  She says that it wasn't easy.  "If you want something bad enough, you have to work hard," said Pacelli. "It's worth it in the end."  While working as a nurse, Pacelli had a 4 a.m. to 12 p.m. shift.  "I always had a hard time getting up in the morning," said Pacelli.  Working as a teacher, Pacelli felt that waking up as early as 5:30 a.m. was easier "…I couldn't wait to start my day, every day," said Pacelli.
In her teaching career, Pacelli worked in three different Hawthorne schools. In 1984, Pacelli started student teaching at Jefferson Elementary School, and then worked as an instructional aid there until 1985.  From 1988 to 1989, Pacelli taught at Jefferson Elementary School teaching third through fifth grade.  Then, in 1989 she continued to teach eighth grade at Lincoln Middle School until 1990.  Pacelli was sent to Hawthorne High School in 1990 through 1992, but then she was soon sent back to LMS until 2006.  Pacelli returned to HHS in 2006 where she had the opportunity to work with students she knew from earlier years and has taught at HHS until this year.
Throughout the years working from school to school, Pacelli has many treasured moments.  "Every moment I've had with all my students were memorable," said Pacelli. Unfortunately, over the past three years, Pacelli has had several surgeries and a lot of pain and difficulty using her arm.  Pacelli says that her students "have been outstanding in their understanding and constant eagerness to help me in any way. I truly appreciate their concern and efforts."
Pacelli's had the pleasure of working with many outstanding teachers, who she said have enhanced her teaching skills, "…with their generosity in sharing materials, knowledge, and support." Many students and teachers at HHS have also enjoyed working beside this dedicated teacher. "[Corrine Pacelli is] the best collaborative special education teacher I have ever worked with here at Hawthorne High School,"said HHS teacher, Carol Murphy. "She was the best teacher I've ever had," added Greg Higley, Junior at HHS.
As we all say goodbye to another school year, we also say goodbye to beloved staff member and teacher.  Pacelli will be greatly missed by the administration, faculty and students. Pacelli was not only a faculty member at HHS but part of the HHS "family."  "I've enjoyed every minute, except when I had to say goodbye," said Pacelli.
After retiring and recuperating from her surgery, Pacelli plans to continue her teaching through tutoring or as a substitute.  In her free time she hopes to devote time to her many hobbies that consist of quilting, painting, and crocheting or knitting.  Pacelli would also like to travel and continue educating herself and taking classes she'd enjoy.