Mr.DeFrances Interview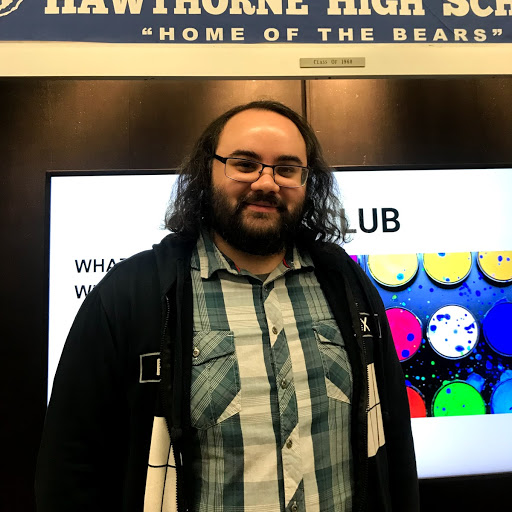 Hang on for a minute...we're trying to find some more stories you might like.
The 2018-2019 school year has started and there are many new faces among the faculty here at Hawthorne High School. In the third of a series of articles, The Clarion is proud to introduce Mr. DeFrances who is an English teacher here at Hawthorne High School…
CLARION:  What made you want to become a teacher?
DeFrances:  I've wanted to be a teacher since my second semester at William Paterson University. I originally wanted to work in the field of Marine Biology, but changed my mind after a bad experience with a teacher. This lead me to favor my English class that I was taking at the time, and I begin to think about careers I could pursue in English.
CLARION: What do you like to do when you're not teaching?
DeFrances: To anyone that has gotten a chance to know me the first thing they will find out about me is that I am a huge gamer. I love playing all kinds of video games, and have had almost every system from the time I was a kid to now. When I was younger I enjoyed playing instruments, such as the guitar and bass. But most of all back when I was in high school (and before I got injured) you would find me outside skateboarding with friends. I was never very good at tricks, but I did like the freedom of riding around town.
CLARION: Did you teach before? If so where?
DeFrances:   I have never truly been a teacher before this year; however, I did work at other schools in preparation for this position. I've worked in a Paterson school, and at Belleville High School as a substitute. I was lucky enough to have my student teaching for my last college class right here in Hawthorne High School, and once I graduated from college I was asked to come back to Hawthorne as a paraprofessional. So even though this is my first year teaching here, it's really the start of my fourth full year here.
CLARION: Why did you choose this subject to teach?
DeFrances:  I chose English because I always felt that  I had a natural talent for reading into a text and having a better understanding of it than some of my other classmates. I enjoyed writing creative pieces, or stories from scratch, but I never pursued the writing end of English. I only took classes in college to further my knowledge on how to be a better writer.
CLARION:  What part of teaching are you looking forward to the most?
DeFrances: The part of teaching that I am looking forward to the most is working alongside my students. I am the happiest when I'm in a class and having a great discussion with students that are genuinely excited to be talking about a particular topic or idea. For me there is no better feeling than a happy class that wants to be talking, and not just to each other about things outside of school, but things we are working on.
CLARION: Why did you want to teach in this district?
DeFrances:  I wanted to teach in this district because this is where I did my student teaching. I know the staff here, and I know a majority of the student body. I feel like everyone here is very helpful and accepting, and I felt like I fit in with everyone in the high school right away. When it comes to my student teaching experience I had a great time, I had a very helpful and caring mentor, Mrs. Hackett, and I had some great students which graduated last year. This experience made me come to love this school and the people in it, so I could not see myself working anywhere else!
CLARION: What were you like as a student in school?
DeFrances: When I was a student I was a class clown. I am not afraid to admit that. My own English teacher, who grew to like me later in the school year, once told me, "I hope you have a student just like yourself so you can see what it's like," My response was immediate and I told her, "That's never going to happen because I'll never be a teacher." I realize now that one of us was right, and it wasn't me. I did eventually grow up as high school went on to be a bit more mature, but I always enjoyed having fun in class.