Hawthorne's Vega Faces Life Through Rap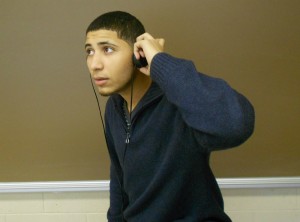 Steuben Vega, a Hawthorne High School student, is often seen as a wise soul in a young body when it comes to writing poetry and rapping.
"I started writing when I realized so much was going on, and I had nobody to talk to about it," Vega explained, "I had such a rough childhood with my brothers yet I felt like I was on my own." Vega said that his mother was "young in the mind" and that she was barely home because of the multiple shifts she worked to feed the family. The scarcity of food and the times without heat or electricity had a tough impact on Vega's life.
Like many other writers, Vega wants to make a difference. "I want to be able to preach my words to the world," Vega said. "To have kid's listening to my lyrics and relating to them would just be an honor."
Vega explained that his music and poetry developed through the story of his life. It's about the memories and experiences that held him down as he grew up. "I was at a fork in the road; I could stay at the level I was brought down to or I could pick myself up by writing my feelings down on paper," Vega said. Writing was an escape from reality, a way to put pieces of his life together to form the picture he wanted.
After three months of playing around with different forms of poetry and music, Vega claims to have started rapping due to a strong attraction to a girl. "I wrote her a song to show her how much I liked her," Vega explained. "She showed her friends who showed their friends until eventually I had developed a deep reputation as a rap musician."
Vega challenges most people's conception of what rap truly is. While others see the word RAP as a form of music, he sees it for what the letters truly stand for: rhythm and poetry. Instead of talking about the pleasures of drugs and alcohol like many famous rap icons, Vega talks about his experiences in life and how they made him the young man he is today.
Some of Vega's music can be seen on tusabe.com, an Internet radio website.