Senior Spotlight: Emelee Montoya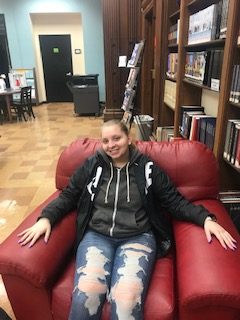 As we wave our way to interview the graduating class of 2019 for Senior Spotlight, we give you the inside scoop of who our students are and their overall experience being an HHS Bear! Proudly representing the Spanish background and culture she obtains, The Clarion made time to interview Spanish Honor Society member and senior, Emelee Montoya.  
The Clarion: Which year would you say was your favorite?
Emelee: Senior year! That's when I got accepted into my first choice for college. I also did more activities than I did in previous years and grew closer with the friends I have.
The Clarion: What will you miss?
Emelee: The teachers here because they are part of my achievements and goals I strive for.  And of course I'm going to miss my closest friends who may be going their separate ways.
The Clarion: What did you learn?
Emelee: I learned that high school is just a small step before reality. Keep the circle small. High school taught me who my real friends are and not everyone will always be there for you.
The Clarion: Talk more about your family…
Emelee: My mom came to America at a very young age which was a struggle for her and her family since she didn't really speak the English language. Seeing my family who came from a struggling background helped me understand that no matter what obstacle you come across, there will always be light at the end of the tunnel. Being Dominican and Colombia is a blessing.
The Clarion: Any last words?
Emelee: Don't be shy, make new friends. High school may seem difficult to a lot of people, making you want to give up, but you gotta strive harder. It will be worth it. And really enjoy the time you have in high school because after that it's just going to get harder.