Interview With Ruby Conroy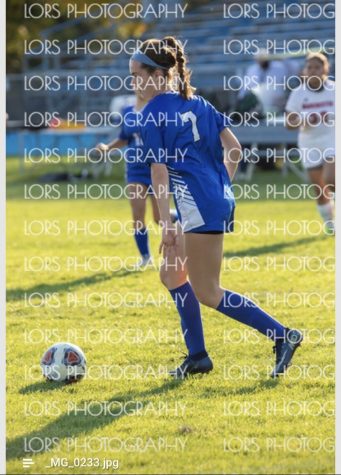 The Hawthorne High School girls' soccer team had an outstanding season this year!
With a record of 11-1, this was definitely a season that will be remembered and talked about.  One name in particular that came up a lot this season was junior, Ruby Conroy, the attacking mid/forward for the varsity girls' soccer team.  Conroy is ranked 17th in the state for goals this season, with a total of 12 goals, 10 assists and was also nominated for athlete of the week.  So, it was a no brainer on who to interview as one of Hawthorne's many great athletes!
Conroy, who has been playing soccer since the age of 6 not only plays for our varsity soccer team, but she also plays for the World Class ECNL girls team, and she has been playing club soccer since she was 8.  You can only imagine how busy she might get.
When I asked her what a typical day for her is like during the soccer season, she said, "During soccer season a typical day consists of going to school and basically trying to get everything done before it's time for practice.  I make sure not to leave a huge workload for after practice because I'm usually drained.  During high school season I really only get rest days on the weekends but it's all worth it in the end."
With such a crazy schedule and what seems to be such long crazy days, Conroy says she doesn't feel like she is truly missing out on anything, "I don't think I'm missing out on typical teen things because of soccer.  I've played soccer my whole life and I've always had such supportive teammates and I've become close with all of them over time.  We get to create new experiences at tournaments and practices and that's something I wouldn't give up."
After hearing about the bond Conroy says that she has formed with teammates over the years, I wanted to know what she has learned from being a part of a team.  And when asked this question, Conroy states, "I've learned that to be a successful team you don't just have to have star players you really need a team bond.  Soccer is not an individual sport so everybody needs to be comfortable with one another to really grow."
Besides soccer, you can find Ruby Conroy also running track for Hawthorne High School in the Spring!
We can not forget that Ruby Conroy does other things besides soccer, so I asked her what her favorite things to do outside of soccer were, she replied with, "My favorite things outside of soccer is probably just hang out with my friends and try to make my best out of my off days."
And lastly I asked Ruby, "Are there any dream schools you hope to play for in college?"  Conroy finished off by saying, "As of right now I don't have any certain schools in mind but I know I would definitely like to play soccer in college"!