Stonehill Signs Hollis
Hawthorne High School's Ryan Hollis, a renowned varsity football quarterback and a top student in his se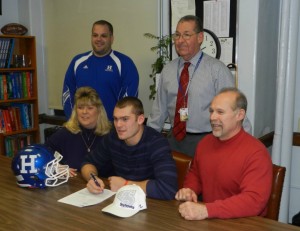 nior class, was just recently signed to the Division II Stonehill College.
While at a football camp at the University of Connecticut, Hollis was approached by the Stonehill football coach and asked to visit the college and check out a game or two. "They invited me up, we took a tour, and I just fell in love with the place," Hollis said about his first experience with the college. Hollis didn't originally have a desire to go to Stonehill. The offer of a football scholarship is what first opened up an attraction for him. "My first choice was Sacred Heart," Hollis mentioned. "I got in but they didn't have the scholarship for football I was after." Hollis decided that choosing the school with the sports scholarship was not only a better choice financially for him, but for his family as well.
At Stonehill, Hollis desires to study a science field such as biology as well as sports medicine. "I may possibly get into sports medicine and become a sports doctor when I graduate," Hollis explained. Well known for his athletic skill, Hollis is also known to be a bright student. Stonehill isn't just about playing football for him.
Hollis now believes that he made the right decision:  "I'm definitely glad that Stonehill came to me. They really came out to be my favorite choice." Hollis said this is his dream even if it isn't his original plan.