Spring Pep Rally at HHS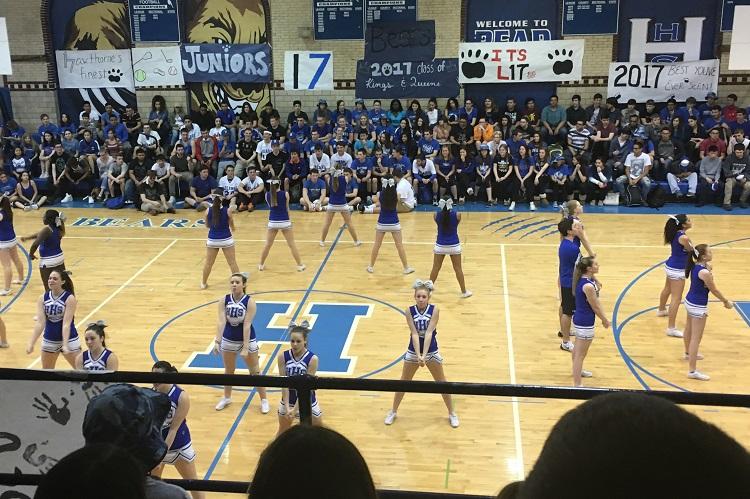 Laith Matari, Contributor
April 8, 2016
A school is most unified when all of its students are together, and on Friday, April 1, the students of HHS all came together to support our spring athletic teams. When students stepped inside the gym, the atmosphere was fantastic. They first heard the music of the band ringing through the hallway; they walked into the gym and were bombarded with streamers/toilet paper and posters, and in the middle of the gym they saw the cheerleaders jumping up and down getting ready for their opening act.
Each grade wore an assigned color.  The seniors were most recognizable sporting all white. The junior class showed immense school spirit with the blue they were wearing. The sophomores rivaled the senior color with their all-black theme. Lastly, the freshman wore gray, for no reason other than none of the other classes wanted to wear it!
Student Council president Leah Matari commented on the event, "I think for our first spring pep rally it went really well. It's sad that for seniors, this was our last-ever pep rally, but I'm happy that we had it. The event is going to be one of the last times the whole school is together before graduation in a few months."
The pep rally focused on our spring athletic teams: baseball, softball, lacrosse, golf, and track. The school band was also cheered. Each coach introduced his/her sport and wished the other teams good luck. Then, each coach handed the microphone to the team captains to call out the rest of their teammates.
Although the pep rally is focused on sports, two young men had their own ulterior motives. Kyle Woodward and Joe Ulrich took advantage of the moment and stepped onto the gym floor to make two very touching prom proposals.
Let's wish all our spring teams good luck, and as Mr. Lagrone would say, "GO BEARS."