Parker Signs with Sacred Heart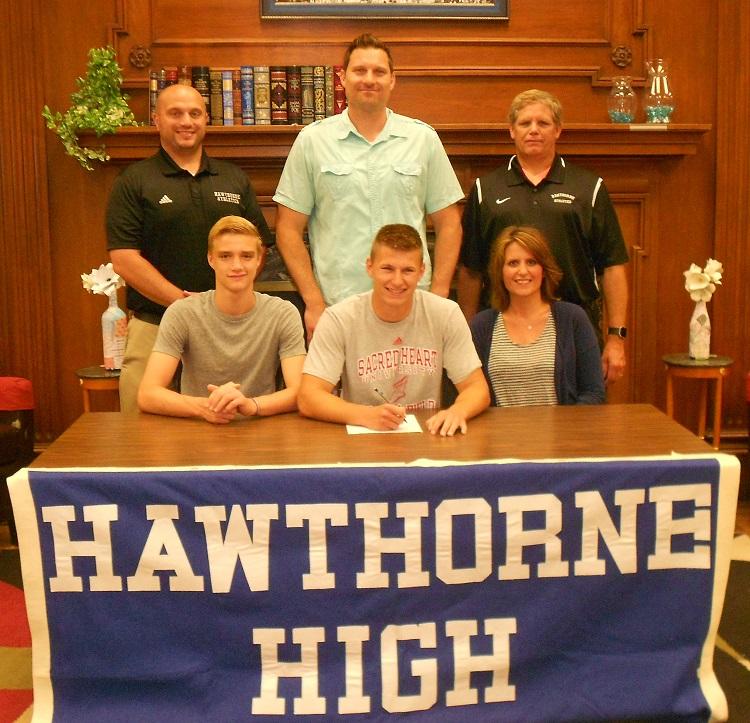 Surrounded by his family and coaches, Brandon Parker signed his NCAA Letter of Intent, joining the Track & Field team at Sacred Heart University in Fairfield, Connecticut. For the Hawthorne Bears, Parker has been anchor of the 4-x-100-meter relay team, which this year broke the Hawthorne High School, North 1, Group 1 track and field state meet records. In individual events, Parker  was runner-up in the 100 meters and finished fourth in the 200 at the North 1, Group 1 meet. He placed second in the 100 and 200 meters at the NJIC Colonial Division Championships.
In a special feature article about Parker's success in track, a Record news article quoted Coach LaForge saying, "Brandon is a team leader and really helpful with all the guys on the team." (Read the entire article at http://goo.gl/fOlVWP)
As Brandon goes off to join the Pioneers at Sacred Heart University, everyone at HHS wishes him good luck.
Parker's long list of track accomplishments include the following:
Honors:
First Team All League
Honorable Mention All County
NJIC Sportsmanship Award
Indoor:
4th in 55m at NJIC Championships Meet
6th in shotput at NJIC Championships Meet
4th in 55m at North 1, Group 1
5th in shotput at North 1, Group 1
Outdoor:
2nd in 100, 200m and 4×400 at the NJIC Colonial Division Championships Meet
4th in shotput at NJIC Colonial Division Championship Meet
6th in 200m at Passaic County Meet
6th in 4×100 at Passaic County Meet
2nd in 100 at North 1, Group 1 meet
North 1, Group 1 sectional champ in 4×100 (with school and meet record)
4th in the 200m at North 1, Group 1  sectional meet
6th in the 4×400 at  North 1, Group 1  sectional meet