Girls Varsity Soccer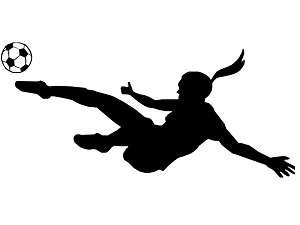 We are officially in the midst of the Hawthorne High School girl's varsity soccer season. As of now, the girls are 6-0-1 with Rutherford, Glen Rock, Lodi, Pompton Lakes, Emerson, Eastern Christian, and Manchester already under their belt. The girls have a promising season ahead as their seniors, Mackenzie Conroy, Bailey Hanson, Madison Noordeloos, Alyssa Caradonna, Meagan Scherer and Samantha Slootmaker lead the way to success.
Their first game was against Rutherford, and it was an intense away game during the first week of school. The girls played a tough game, leaving junior, Julia Aguero, with a yellow card and senior, Bailey Hanson, with a torn ACL. Although there were some unfortunate events, the girls brought their first game home with junior, Nicole Bertollo scoring the game winning goal, making the final score of the game 1-0.
The second tough game the girls played was against Glen Rock. This is the game the girls most look forward to every year, as both teams always put up a good fight. The girls admitted to being a bit nervous before the game, but you definitely could not tell judging by their performance on the field. The girls tied the home game in double overtime with a score of 0-0.
The next big game for the girls was against another one of their biggest rivals, Pompton Lakes. Pompton is one of Hawthorne's biggest rivals, no matter the sport. This explains why it was such a great victory for the girls. Sophomore Heather Bertollo scored the first goal of the game, and then Pompton followed. The girls were triumphant on their home field in overtime when junior Kimberly Corrales scored with only seconds remaining. They left the game victorious with an ending score of 2-1, giving up their first goal of the season. Even so, the girls and Coach Gus Schell were more than happy with their performance.
The last rival they played was away at Eastern Christian. This game is always one to look forward to since it is their only night game of the season and Eastern Christian loves a good fight. The beginning of the game was a little rocky, but things turned when sophomore, Heather Bertollo, scored the first goal of the game. After Bertollo, her sister, and HHS junior, Nicole Bertollo, scored twice along with junior, Kimberly Corrales. In the end, the girls left the game with a score of 4-1.