Bullseye: Hannah Frascella Gets Her 1000th Kill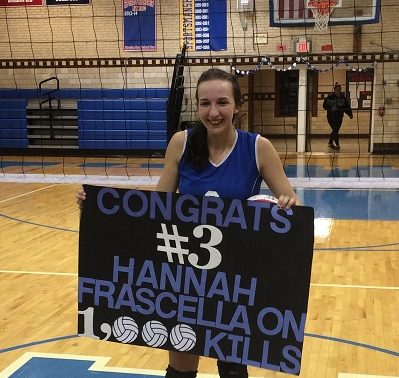 Every time you walk into the Hawthorne High School Gym, you see banners everywhere with championships and records.  
There are record holders in basketball, wrestling, and volleyball.  In volleyball, there was only one student athlete who has achieved this award, 1000 kills, and that was HHS alumni Jenna DeFranco.  
DeFranco accomplished her record in 2004.  Current HHS senior Hannah Frascella will now be joining DeFranco in the record books.
On October 26, 2016, Hannah Frascella got her one thousandth kill in her career as a high school athlete.  She was halfway there between the first and second set.  The audience was counting down, as well as the bench, and of course Hannah was counting down the kills until she hit that number.  
Emotions skyrocketed as soon as she slammed that ball down.  The gym was electric.  Not only was Hannah working hard to achieve this goal throughout high school, but to do it on her senior night was even more special!  
Congratulations Hannah on your 1,000th career kill!