Girls Varsity Soccer Final Games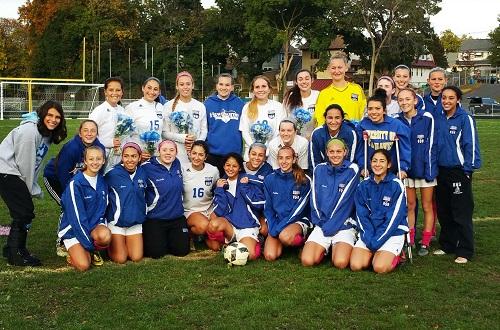 Sadly, the Hawthorne High School girls' varsity soccer season has come to an end. Although everyone is upset the season is over, the girls are very excited that they finished the 2016 season with a record of 17-3-1, the best record HHS girls' varsity soccer has had in years! Coach Gus Schell is very proud of all the accomplishments the girls have made this season and the connection the team was able to make unlike prior years.
The girls amazing league record led them to second seed in the state tournament this year; the highest ranking HHS girls' soccer has seen since the team began. Therefore, their first game was home against Hopatcong which they won 3-0. Sophomore Heather Bertollo scored first for the Bears, and not long after followed two goals by sophomore Katrina Kimberlin and junior Kayla Miller. This win led  to their next game home against their rival, Pompton Lakes.
The second state game proved much tougher for the girls than the first. However the girls prevailed with a winning score of 3-1. The girls came off the field at half down 1-0, with Nicolette MacDonald having scored in the first half for Pompton. It was not unusual for the girls to have an 1-0 lead or be down 1-0 at half, so Coach Schell remained calm and the girls played the second half with a lot more enthusiasm, which won them the game. Junior Kayla Miller started off the comeback with a goal off of a penalty kick. Following her, junior Katelyn Moro scored; and to ensure the win, junior Julia Aguero scored outside the eighteen.
The win against Pompton gave the girls one last home game against Kinnelon. Kinnelon had been seeded third right below Hawthorne, so the girls knew they were in for a fight in the semi-finals. Sophomore Katrina Kimberlin scored the first goal of the game, giving the girls a 1-0 lead in the first half. However, that lead did not last long as Sarah Racine of Kinnelon scored two, giving Kinnelon the lead and eventually the game.
Although the loss was a huge upset to not only the team, but the school as a whole, 2016 girl's soccer will go down as one to remember.