NFL Playoff Brackets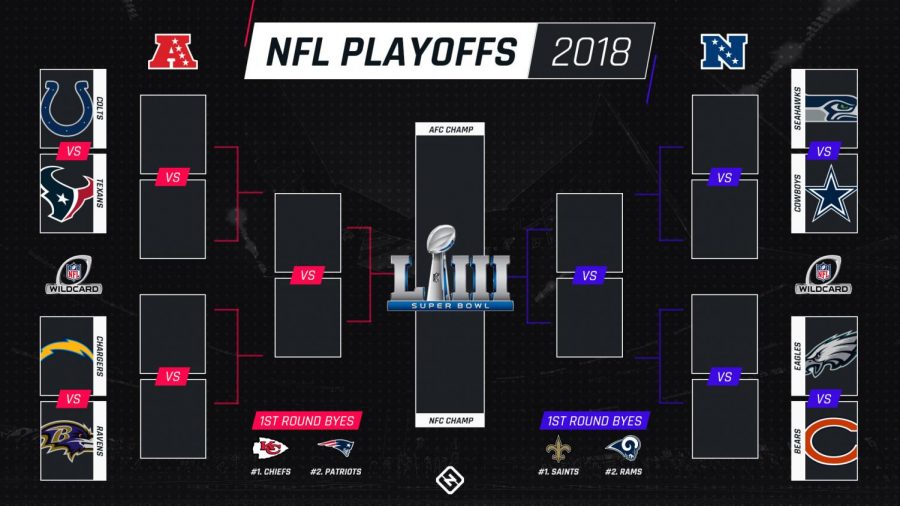 Everyone knows that when January starts up, it's time for football playoffs. Many great teams have clinched spots in the NFL playoff bracket.
The first round of the playoffs is the Wild Card. The Wild Card is when a conference sends their 3rd and 4th seated teams to play for a chance to make the next round of the playoffs, the divisional round. This year, two Wild Card games will be held on Saturday, January 5, and the other two on Sunday, January 6.
The Indianapolis Colts and The Houston Texans will play on Saturday at 4:35 pm as well as The Dallas Cowboys and Seattle Seahawks at 8:15 pm. On Sunday, January 6, The Los Angeles Chargers and Baltimore Ravens will play at 1:05 pm as well as  The Philadelphia Eagles and Chicago Bears at 4:40 pm.
The winners of these games will go on to play the Kansas City Chiefs, Los Angeles Rams, New England Patriots, and the New Orleans Saints in the next round of the playoffs on Saturday, January 12 and Sunday, January 13.
The winners of these games will then move on to The Conference Championship games on January 20. These games determine which teams will be playing in the 2019 Super Bowl on February 3, 2019.