Yankee's Season is Over, Now What?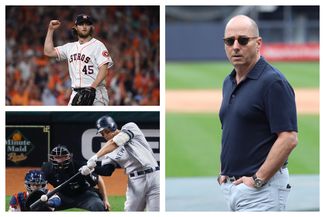 The 2019 New York Yankees season ended last week.
They finished with a record of 103-59. They won their first playoff matchup against the Twins in a sweep, 3-0. However, they lost in 6 games to the AL Champion Houston Astros. Brian Cashman and his staff go into the offseason with more questions than answers. Here are some moves we believe could help the Yankees for next season, and their quest for a 28th world championship.
The Yankees have a lot of decisions to make regarding their own free agents. Those include fan favorite Didi Gregorius, back-up catcher Austin Romine, and closer Aroldis Chapman has a player-option to return for next season. From the looks of it they will plan to move on from all of them. The wildcard free agent of the Yankees is pitcher Dellin Betances. He is coming off a torn ACL and overall a lost season. One could see the Yankees re-signing him to a cheap 2 year deal.
The Bronx Bombers' problem against the Astros wasn't necessarily the pitching, but more so the timely hitting when runners were in scoring position. This is why many would like the Yankees to first get in trade talks for guys like Francisco Lindor from the Cleveland Indians. A package of Clint Frazier, Albert Abreu, Luis Gil, and Estevan Florial should be enough to get it done. The question is, will the Indians trade him? An infield of LeMahieu, Torres, Lindor, and Urshela is a scary thought for other teams. Some bullpen options the Yankees should trade for include Ken Giles and Kelvin Herrera.
Regarding free agents the "Savages" need to sign an ace. Some starting pitchers that are free agents include Gerrit Cole, Madison Bumgarner, and Stephen Strasburg if he opts out of his current deal. The Yankees need to at least sign one of them.
Along with that, they NEED to trade that awful contract they gave J.A Happ. Getting a guy like Strasburg and trading for a pitcher like Jameson Taillon would help that rotation immensely. Also, signing some cheap relief options like David Hale and Tony Watson would be a great addition.
The pressure is on for Brian Cashman, Aaron Boone, and Hal Steinbrenner to build a team that is able to beat the Astros and win number 28 for the great city of New York and the best fans in the world.