Nate Diaz vs Jorge Masvidal (UFC 244)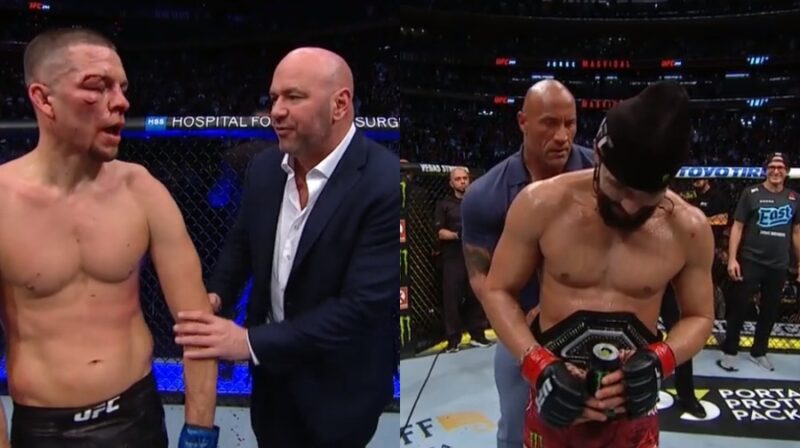 On Saturday November 2, 2019 UFC 244 took place at Madison Square Garden in New York City.
This event was headlined by the fight between Nate Diaz and Jorge Masvidal. UFC 244 was attended by many celebrities like President Trump and Dave Portnoy. However, the headline fight has caused a lot of controversy. This is due to the doctor's decision to stop the fight,  because Diaz had a massive cut on his right eyebrow.
Diaz is known to bleed a lot during his fights and that part of his face was hit by the greatest MMA fighter of all-time in Conor McGregor in their previous two fights. This led to Masvidal winning the match and the BMF belt from TKO. 
Diaz, along with his team and many supporters, were not pleased by this decision. They believed that Diaz would've won the fight and the belt, as he was dominating Masvidal in the previous rounds. Masvidal also was not satisfied with his victory. He stated that he wanted to "baptize him." This led to Diaz and Masvidal both wanting a rematch in the near future. Many MMA fighters tweeted about what had happened and believed that it was not fair for Diaz. 
Many fans of MMA and fans of the UFC want to see a rematch where this does not happen again. Many believe that for the next fight big names like Conor McGregor will come out of his "retirement" to fight.
Whenever the fight may be, millions will watch again and this time hope for a better fight.