Nationals Secure Their First World Series Title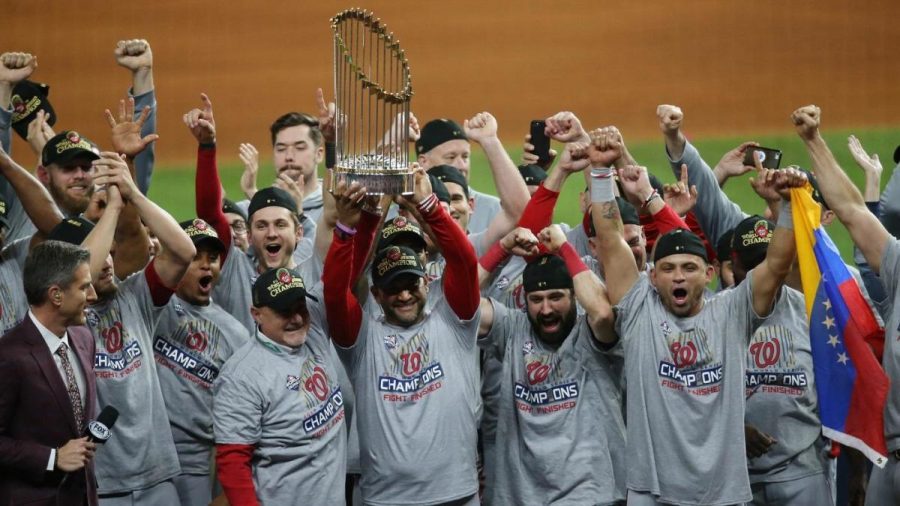 The Washington Nationals have won the 2019 World Series, defeating the heavily favored Houston Astros in 7 games.
This was a historic World Series as the Nationals/Expos won their first World Series in their franchise history. It was also historic as it was the first best of seven postseason throughout the MLB, NBA, and NHL that the home team did not win a single game. To be more specific, out of a total of 1,420 best of seven series, this was the first time EVER that a home team did not win a single game in front of their fans. 
The Washington Nationals, once 8.5 games out of a playoff spot, defeated the Houston Astros 5-4 in game one and 12-3 in game two. After suffering two tough losses, the Astros would go on to win games three, four, and five in Washington D.C. by a score of 4-1, 8-1, and 7-1. When the series went back to Houston, the Nationals asserted their dominance and history in baseball. Against the Cy Young award finalist Justin Verlander, the Nationals put up 3 runs against him and 4 more against the bullpen to win the game 7-2 and force a game 7.
Game 7 seemed to be all Astros. They had a 2-0 lead heading into the top of the seventh with a very strong pitching performance from Zack Greinke. The beast inside of the National's belly would suddenly be awoken as the Nationals offense exploded for three runs in the top of the seventh, one run in the eighth, and two runs in the ninth to take a commanding 6-2 lead into the bottom of the ninth.
The last task was to take down the powerful Astros top of the order. The fate of the Nationals championship was lying in Daniel Hudson's hands. The top of the Astros lineup is a tough task to face with George Springer, Jose Altuve, Michael Brantley, and Alex Bregman, the potential AL MVP, due up. Hudson slammed the door shut getting Springer to pop out, Altuve to strike out, and finally striking out Michael Brantley to seal the victory and capture their first ever World Series title in franchise history!