Kentucky vs. Evansville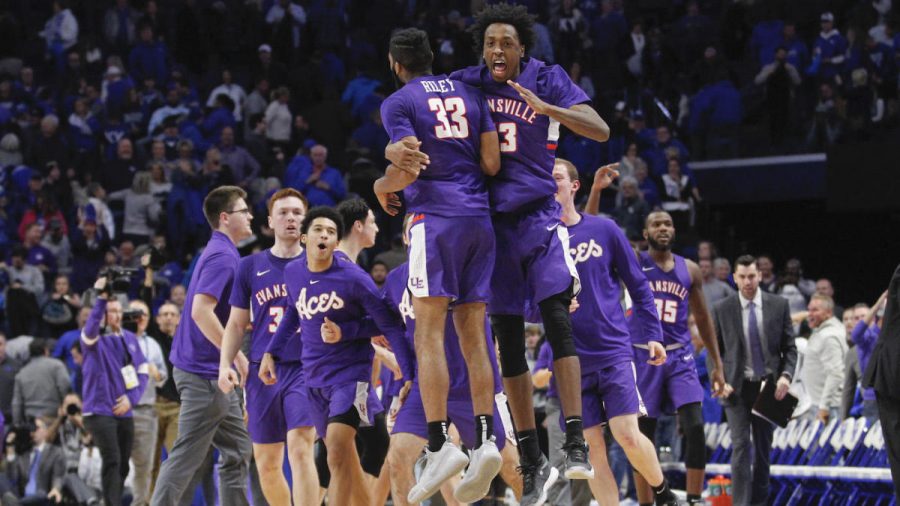 The best college basketball team in the nation just lost to an un-ranked opponent.
Kentucky was ranked #1 in the nation, but no one knows how this loss will effect their ranking. Evansville was ranked at 169 before the tip started. After the last buzzer went off Kentucky dropped out of the #1 seed, the Top 10 and even the Top 25. Kentucky has seven 5 star recruits. This means they have bench players who are 5 star players. Evansville's highest ranked player is 4 stars, while everyone else is 3 stars or below. This is a huge loss for Kentucky and will make it even harder for them to be highly ranked again.
The game was very close; however, Evansville won because of better ball control and shooting. Kentucky only has 8 players while Evansville has 11. This means Evansville could out run Kentucky and wear them down towards the end of the game.
The game started off by Kentucky and Evansville going back and forth. Kentucky is a bigger team with their forwards being 6'9 and 6'11. However you could tell that they weren't very fast, because they were jogging on the fast breaks, meaning easy points for Evansville.
Evansville had a couple of big players for them in that game. K.J Riley had a huge game dropping 18 points, 1 assist, and 4 rebounds. Sam Cunliffe was another player with a big game with 17 points and 6 rebounds. Lastly, there was DeAndre Williams with 9 points, 3 assists, and 4 rebounds.
Kentucky's guards came to play in the game, but couldn't come out with the win.  Emmanuel Quickly had 16 points and 9 rebounds, while Tyrese Maxey also had a great game with 15 points and 3 rebounds.
Statistically speaking Evansville had a better offensive game while Kentucky had a better defensive game. Evansville as a team shot 38% from the three point line while Kentucky shot 37%. Evansville also had amazing shots from the free throw line shooting 92%, which helped them with the win. Kentucky shot 80% from the free throw line. Although Kentucky is a taller team, Evansville crashed the boards and out rebounded Kentucky 38-35.